Industrial Wireless Solution

We offer a wide range of industrial wireless solution, ranging from IEEE 802.11abg wireless AP/Bridge/Client, cellular and router to industrial radio modem.
The industrial grade AWK product line includes wireless Access Point and routers that support the IEEE 802.11 standard. The industrial grade OnCell product line includes Cellular Router, Cellular IP Gateway, Cellular IP modem and Cellular modem that support GSM/GPRS/EDGE/HSDPA/UMTS tecnology.
If you're looking for longest-range, highest-interference immunity and robust performance for industrial systems using license-free bands, Data-linc's flagship frequency hopping technology might be the answer. Available in either serial (RS-232/RS-422/485) or Ethernet interfaces, the SRMs provide robust wireless transmission for SCADA, wireless I/O and PLC/HMI applications. Point-to-point and point-to-multipoint architectures are supported and repeater mode may be used to extend distance or work around obstructions.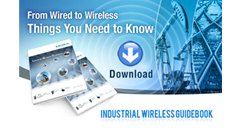 ---
Products include: