MGate 5119 Series
1-port DNP3/IEC 101/IEC 104/Modbus-to-IEC 61850 gateways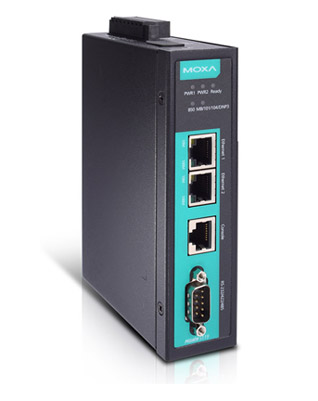 Features and Benefits:
Supports IEC 61850 MMS server
Supports DNP3 serial/TCP master
Supports IEC 60870-5-101 master (balanced/unbalanced)
Supports IEC 60870-5-104 client
Supports Modbus RTU/ASCII/TCP master/client
Embedded traffic monitoring/diagnostic information for easy troubleshooting
Built-in Ethernet cascading for easy wiring
-40 to 75°C operating temperature range
Serial port with 2 kV isolation protection
Supports IEC 61850 MMS and DNP3 TCP protocol encryption
Security features based on IEC 62443/NERC CIP
Compliant with IEC 61850-3 and IEEE 1613
Built-in SCL file generator for easy configuration
Certifications
DATASHEET DOWNLOAD    GET A QUOTE
---
Introduction
The MGate 5119 is an industrial Ethernet gateway with 2 Ethernet ports and 1 RS-232/422/485 serial port. To integrate Modbus, IEC 60870-5-101, and IEC 60870-5-104 devices with an IEC 61850 MMS network, use the MGate 5119 as a Modbus master/client, IEC 60870-5-101/104 master, and DNP3 serial/TCP master to collect and exchange data with IEC 61850 MMS systems.
Easy Configuration via SCL Generator
The MGate 5119 as an IEC 61850 MMS server, typically, requires the import of a SCL file generated by a 3rd party tool. This can be time-consuming and increase costs. To overcome this pain point, MGate 5119 has a built-in SCL generator, which can easily generate SCL files through the web console and make them available almost immediately saving configuration time and cost.
Easy Troubleshooting via Traffic Monitor
MGate 5119 Series gateways support Modbus RTU/ASCII/TCP, IEC 60870-5-101, IEC 60870-5-104, and IEC 61850 MMS Protocol Traffic Monitor for easy troubleshooting, especially during the installation stage. It is worth mentioning that traffic logs can be viewed in the popular troubleshooting tool, Wireshark. With this feature, you can easily analyze traffic to determine the root cause of a problem.