The OnCell G4302-LTE4 cellular router comes with built-in IEC 62443-4-2 certified cybersecurity features and an industrial-grade design, ensuring uninterrupted connections and comprehensive asset security to prevent cyberattacks. With its robust firewall, VPN, and NAT technologies, the OnCell G4302 establishes a secure data transmission environment.
Furthermore, the OnCell G4302 integrates with the network security management software, MXsecurity, to visualize network health. The software's easy-to-use monitoring and real-time notifications enable OT staff to react, debug, and troubleshoot quickly. MXsecurity also helps managers monitor and manage all distributed devices to maximize network stability.
Build a Cybersecurity Shield for Your loT Application


---
Network Management Visualized With MX security

MXsecurity's intuitive web-based interfaces and centralized management simplify deployment and management. Built-in IoT cybersecurity features, such as deep packet inspection and traffic analysis, protect against cyberthreats in real time. Users can easily monitor the status of distributed cellular routers with the map view and device dashboard to ensure stable connections. Besides real-time notifications, remote SMS control supports users in recovering connections or rebooting cellular routers when troubleshooting. Scheduling reports referencing device inventory or track traffic status also save maintenance time.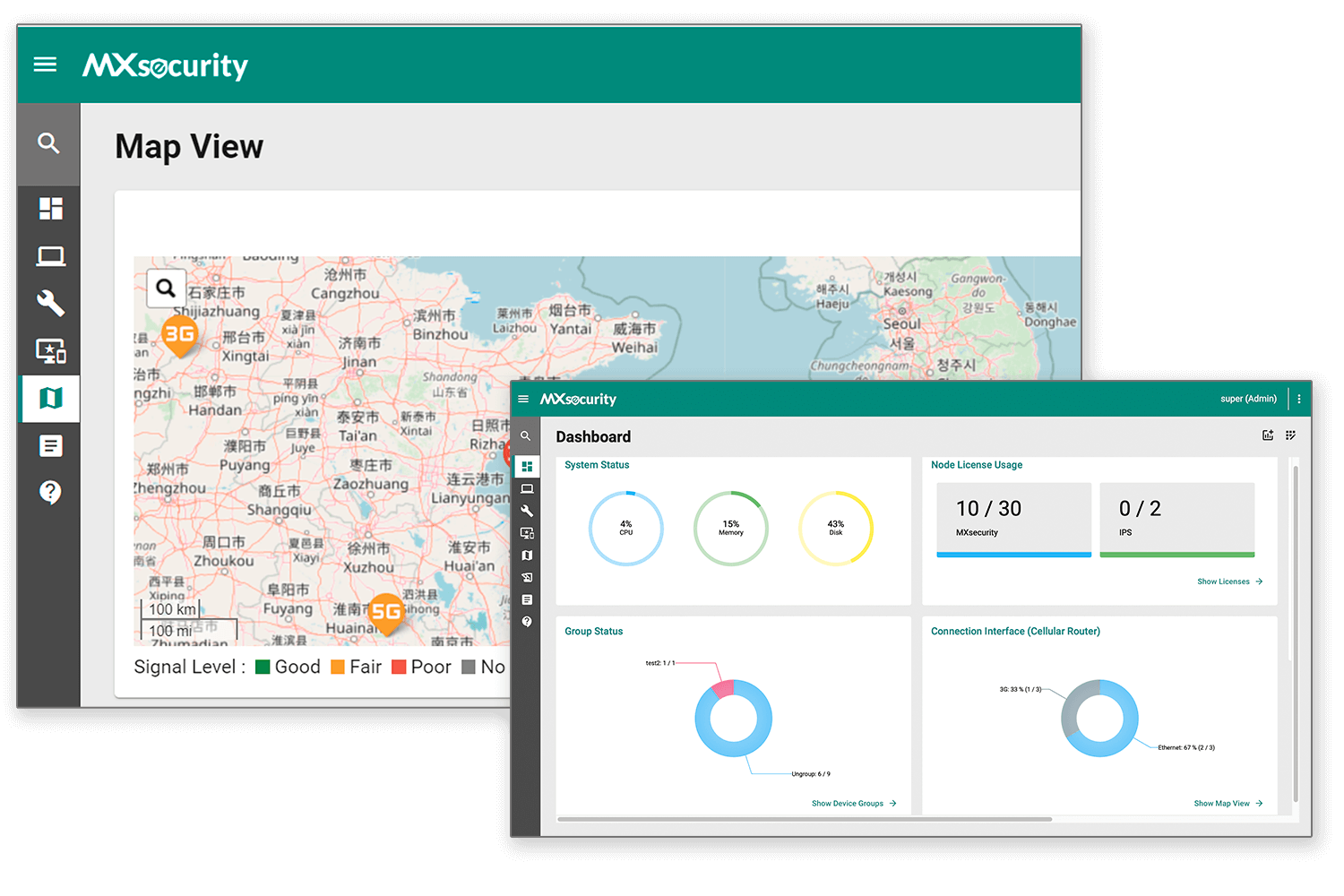 Monitor Your Network Connections in Distributed Environments
The map view helps users monitor all secure cellular routers. The dashboard shows connection performances to ensure devices are in working order.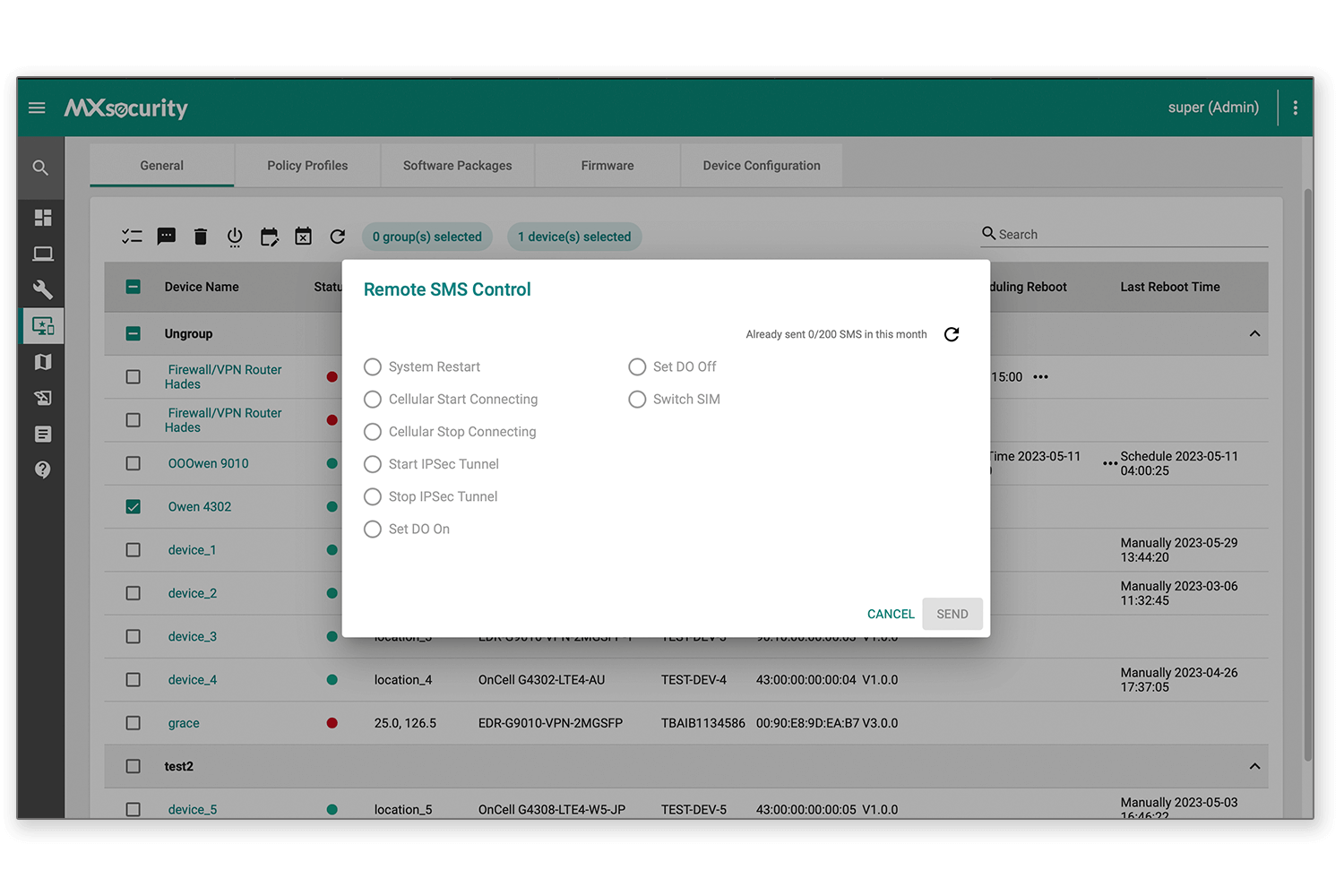 Remote Control Devices to Ensure Uninterrupted Connections
SMS-enabled control allows for a reboot of the OnCell routers and devices or recovering Internet connections through a VPN.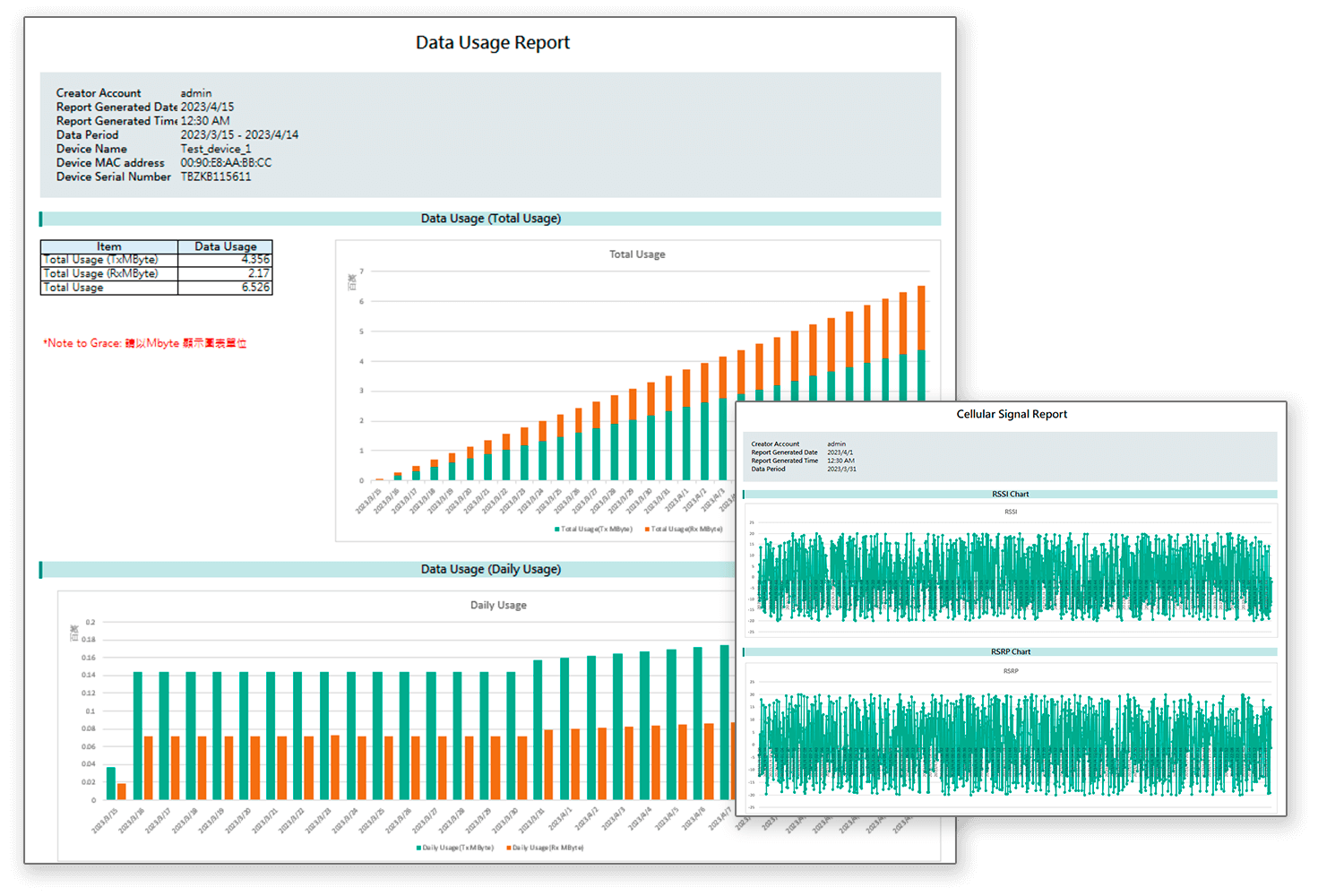 Save the Maintenance Resource With
Scheduled Reports
MXsecurity provides four types of reports to cater to the OnCell secure router's needs:
- An inventory report summarizes the inventory.
- Cellular signals record signal status to pinpoint the exact time an incident occurs.
- Data usage provides information on communication costs.
- Thanks to GPS, a trail report tracks the mobility trail of secure cellular routers installed on mobile devices.  
---
Application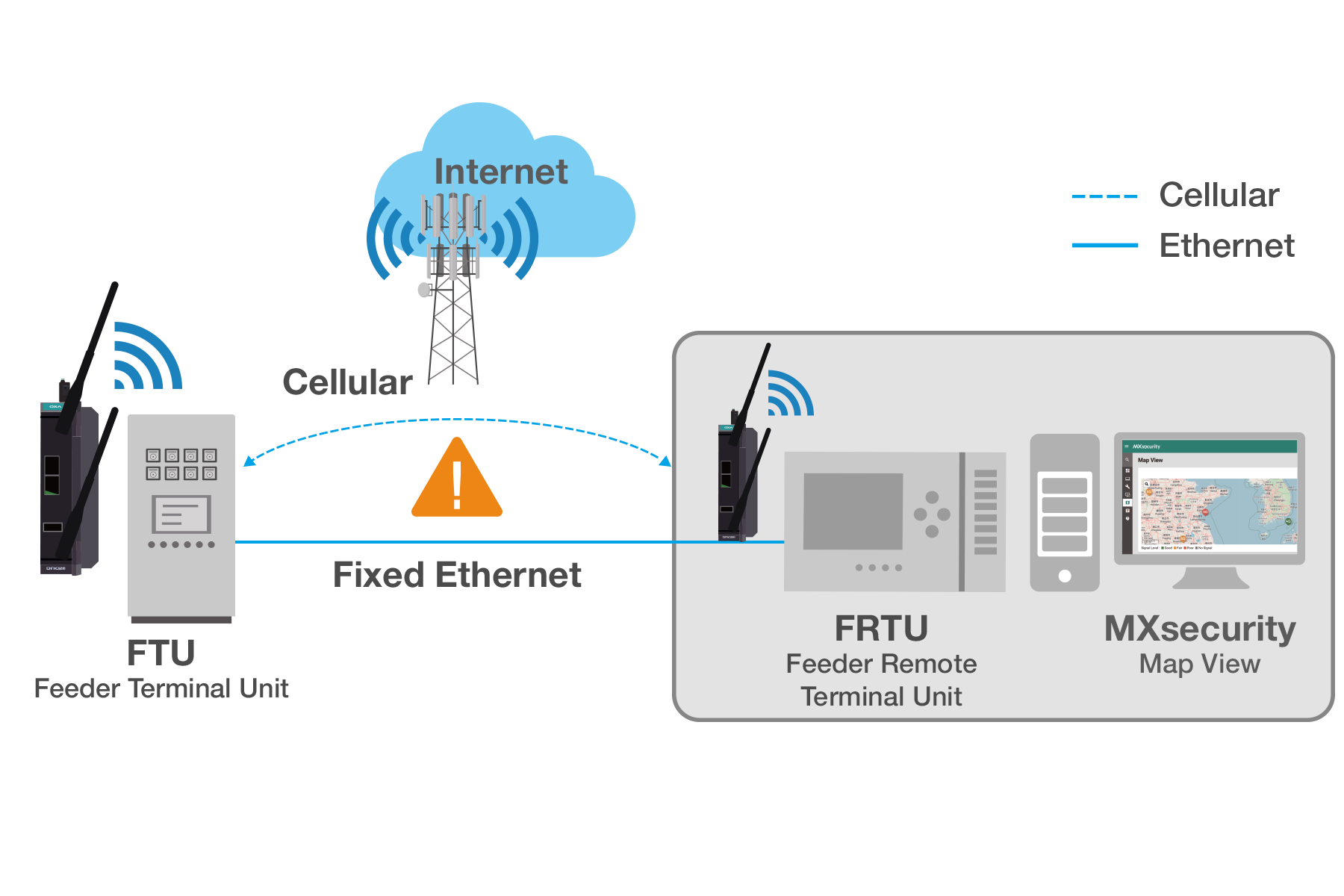 Reliable Connections Ensure Stable Monitoring of Distributed Power Applications
The OnCell G4302 secure cellular routers reliably connect feeder terminal units(FTUs) with feeder remote terminal units (FRTUs). Designed for monitoring distributed networks, the OnCell G4302 secure cellular router features dual SIM slots that provide redundant cellular services: GuaranLink recovers internet connections when signals fail, and WAN redundancy switches over to a better performing interface for maximum connectivity.
Real-time Monitoring of Oil Pipeline Systems
The OnCell G4302 secure cellular router monitors pressure in oil pipes and controls the oil inlet valve to maintain safe pressure. As the sensors and cellular routers may need to be placed in different slots, the generated data is safely transmitted to the control center. For this application, the OnCell G4302 Series is certified as explosion-proof.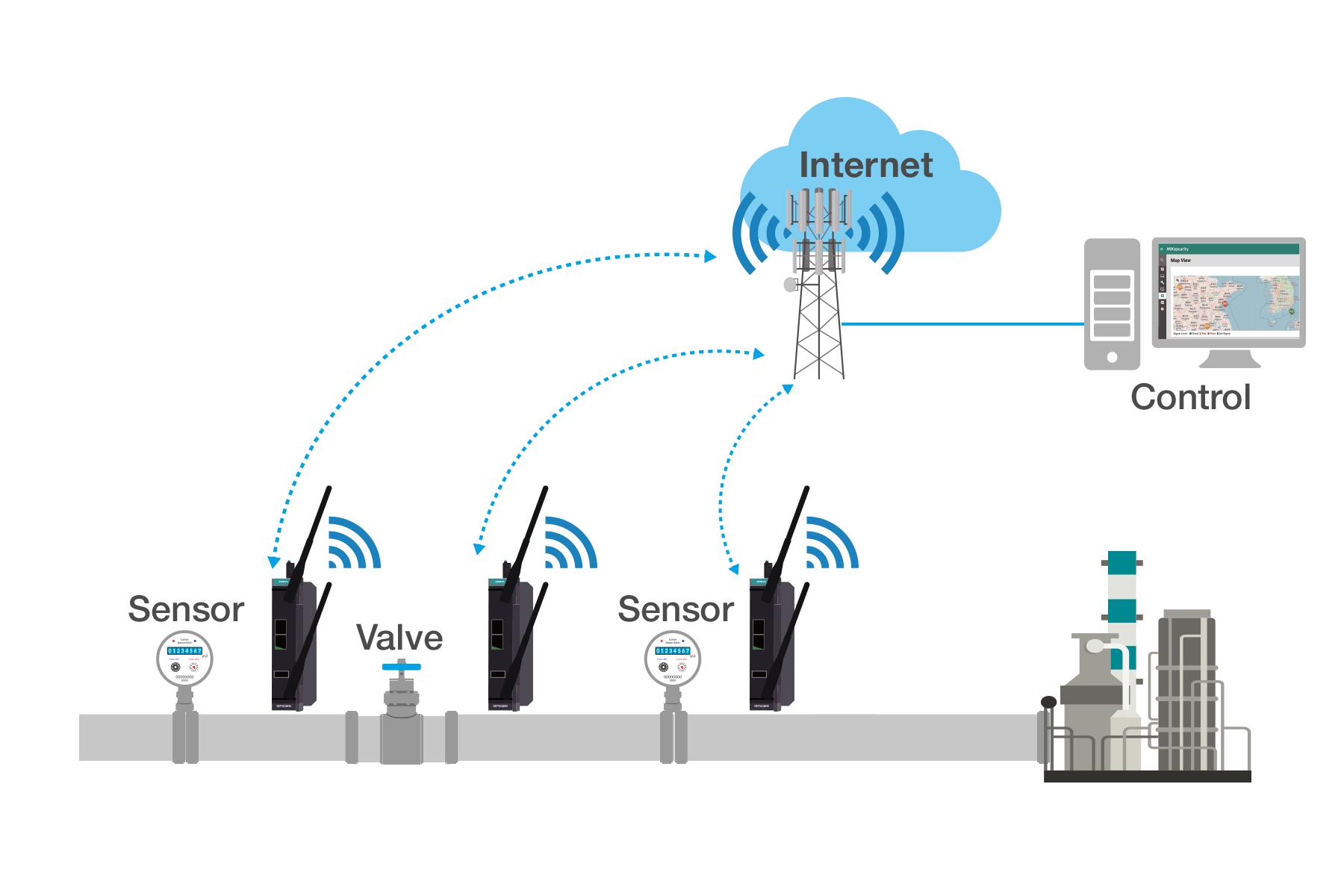 Accurate Data Acquisition for Intelligent Transportation Systems
The OnCell G4302 secure cellular router is ideal for distributed traffic light control environments. Its industrial-grade and rugged design, coupled with a wide operating temperature range, ensures accurate data collection and real-time traffic control. Additionally, the routers are certified by E1 eMARK and NEMA TS2 for applications in specialized transportation.
---
Product Highlight
| | |
| --- | --- |
|   | OnCell G4302 |
| Cellular standards | LTE CAT-4, HSPA, UMTS, EDGE, GPRS, GSM |
| No.of Ethernet Ports | 2 GE RJ45 ports |
| No. of Serial Ports | 1 RS-232/422/485 |
| No.of SIMs | 2 Nano SIM |
| Operating temperature | -30 to 70ºC |
| Management | GuaranLink, Syslog, Back Pressure Flow Control, LLDP, Power Management, Wireless Search Utility, MXview One, MXconfig, MxSecurity, MRC Quick Link |
| Global Support | Support for global cellular bands including America, Australia, Europe, Asia, and Japan |
| Security | Secure boot, Firewall, NAT, IPsec VPN, |
| Warranty | 5 years |
 

 

ANT-5G-ASM-03

 

 

MAT-5G-PA-SM-2-06-3M

 

MAT-5G-PA-SM-3-06-3M

 

 

 

ANT-GNSS-CSM-02-3M

Cellular
1
2
2
-
GNSS
-
-
1
1
Cable Length
-
3m
3m
3m
Waterproof
-
Yes (IPx9K)
Yes (IPx9K)
Yes (IP67)
Extension Cable
3m: A-CRF-SMSF-R3-100
5m: A-CRF-SMSF-R3-100
3m: A-CRF-SMSF-R3-100
5m: A-CRF-SMSF-R3-100