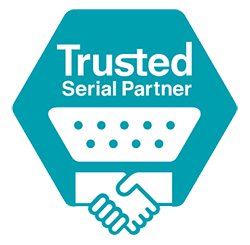 Moxa is highly committed to serial product development. Since 1987, Moxa has invested millions of dollars each year to develop innovative and user-friendly products to serve our serial partners, and we now offer over 500 models of serial/USB connectivity products, becoming the industry-leading serial connectivity solution provider. As your trusted serial partner, we commit to provide a variety of serial connectivity solutions to enable connectivity for legacy equipment to the year of 2030 and beyond. We are not only investing in developing new communication technologies and connectivity security capacity to fulfill future networking requirements, but also keep on updating our existing product portfolio to make legacy devices easy to integrate with your modern systems. With our serial connectivity solutions, we can take your serial devices to future networking easily and securely.
---
Serial Connectivity Product Portfolio
Moxa serial connectivity solutions include serial device servers, serial converters, protocol gateways, USB-to-serial converters, and multiport serial boards. Visit our product page to find the solution you need.