TSN—Is It Ready to Take Your Smart Factory up a Notch?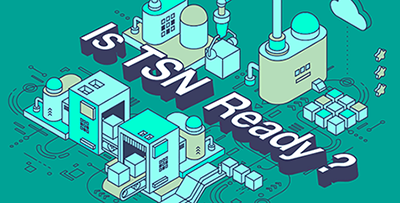 Building a smart factory is not easy. In the past, in order to achieve the best performance for different applications and functions, factories needed to create their own independent, layered network architecture to maximize the efficiency of their workstations, production lines, and control center.
In addition to increasing production capacity and reducing production costs, the move towards Industry 4.0 also drives the future trend of mass customized manufacturing. This new approach to manufacturing relies on the interconnection of all devices in the factory. In practice, this means merging the information technology (IT) and operational technology (OT) networks to connect all end devices and centralize data collection from raw materials, to production, all the way to customer delivery. That real-time information then enables factories to optimize their production strategies.
With this trend in mind, system integrators that want to help factories with conventional layered networks transform into smart factories will face difficult challenges including technical feasibility, additional construction, and higher maintenance costs. To build true smart factories, we need to break through traditional layered network architecture first. 

The automation industry has long been looking forward to the possibility of a unified network that can address the challenges many factories face today. This is where time-sensitive networking (TSN) technology comes into play. Based on standard Ethernet, TSN can achieve network-wide time synchronization, lower latency, higher reliability, and optimized management along with support for industrial Ethernet protocols. With these enhancements, TSN effectively solves the complications of  IT and OT convergence, breaking through the islands of automation to realize the future imagined by Industry 4.0.
The standard development organization ODVA, composed of leading industrial automation manufacturers, pointed out that: "The TSN standard for sending time-critical data via industrial Ethernet can accommodate the significant increase in data traffic brought about by IT and OT convergence."
TSN technology has been in development for many years. However, companies hoping to build smart factories are still waiting to see what practical benefits TSN can bring to the industry. System integrators believe that TSN technology has not been put into practice yet and are looking forward to the commercialization of TSN technology as well as a more complete TSN ecosystem.
However, the bigger question remains: Is TSN ready to be used in smart factories?
We believe that there are three key requirements for successfully implementing TSN technology.
Requirement 1: Support for Industrial Ethernet Protocols Over TSN
Industrial communication technology is an integral part of any factory's operations. Industrial Ethernet protocols play an important role in the factory's OT network. Different organizations create customized protocols to meet the requirements of their application systems. This creates a situation where equipment, production lines, and applications work independently, making it difficult for these systems to communicate and collaborate with each other.
Since the dawn of TSN technology, major industrial Ethernet protocol organizations have begun actively formulating standards and developing TSN-compatible industrial Ethernet protocols. This allows users of different industrial Ethernet protocol ecosystems to take full advantage of the latest TSN technology.
For example, in 2018, the CC-Link Partner Association (CLPA) completed and issued the "CC-Link IE TSN" specification based on the TSN standard. A subsequent CLPA white paper described several application cases such as an automotive paint shop and semiconductor processing tools, illustrating the practical advantages of a unified network using the CC-Link IE TSN protocol. As of September 2020, the CLPA has more than 300 corporate members, with several manufacturers having released products compatible with the CC-Link IE TSN standard.
The PROFIBUS & PROFINET International (PI) organization, which has 1,700 members around the world, released the "PROFINET Specification V2.4" in July of 2019, introducing support for PROFINET-based industrial communication over TSN networks. In addition to proving the feasibility of TSN technology, it is also pioneering the advancement of the TSN ecosystem.
In 2018, the "OPC UA FLC initiative" launched by the OPC Foundation aims to deliver an open, cohesive approach to implement OPC UA including TSN and associated application profiles. For the first time, the OPC Foundation has assembled a number of top industrial automation manufacturers to participate in a joint project. The aim is to construct field-level real-time communication protocols required for future industrial automation systems based on TSN technology. Although this standard is still under development, its substantial progress could already be witnessed at the Hannover Messe in Germany in April 2019.
EtherNet/IP, an industrial Ethernet protocol developed by ODVA, is also on the verge of leveraging TSN technology for its standard. For example, its "EtherNet/IP Enhanced to Further Address Industry 4.0 and IIoT" released in April 2020 added support for Link Layer Discovery Protocol (LLDP) to lay down the foundation for incorporating TSN functionality into the EtherNet/IP Specification.
These major industrial Ethernet protocols are being updated to support the TSN standard. Although they are in different stages of completeness, they are no longer just theoretical. In addition, some equipment manufacturers have already launched TSN-capable products that are compatible with these industrial Ethernet protocols.
Requirement 2: TSN Solution Readiness
Following the evolution of industrial Ethernet protocols, the next hurdle to overcome is the readiness of TSN solutions. For the automation devices, systems, and even the entire production line required in a smart factory, the software and hardware must support TSN to a certain extent to be able to implement a complete solution and put the TSN technology into practice.
For example, software and hardware development kits and stacks, and development boards can assist device makers throughout the lifecycle of producing TSN applications and products. Automation hardware devices such as controllers, switches, human-machine interfaces (HMI), inverters, and IOs also need to support TSN-related functionality to assist system integrators with building the next generation of automation systems and networks.
On the other hand, there has been a substantial increase in the amount of managed devices and collected data in smart factories. In order to help system integrators reduce overall deployment and maintenance costs, the software management tool for the centralized management of TSN equipment is also an indispensable part of the overall solution. This can help field engineers simplify complex application requirements and save a significant amount of time when configuring TSN devices.
When looking at the TSN ecosystem as whole, since the inception of the Smart Production Solutions (SPS) in Germany in 2016, various manufacturers of chips, development boards, equipment, and software kits have been gradually releasing TSN-related products. From the products launched by the automation giants in recent years, it is clear that TSN-based solutions are maturing quickly.
Requirement 3: Multivendor Interoperability
While TSN is a collection of many industry-recognized Ethernet standards, compatibility issues between devices of different manufacturers are inevitable. In response, four major TSN interoperability test platforms have been established around the world, including the Industrial Internet Consortium (IIC), Labs Network Industrie 4.0 (LNI 4.0), Alliance of Industrial Internet (AII), and the Edge Computing Consortium (ECC). Through these platforms, device manufacturers can work together to ensure the interoperability and integration of TSN technology between devices.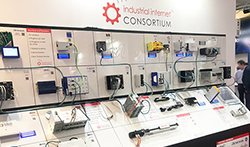 During the 2019 Hannover Messe exhibition in Germany, the Industrial Internet Consortium (IIC) presented its joint demo. This not only demonstrated the commitment of the many manufacturers to provide TSN solutions, but also served as a practical means of reassuring system integrators and users.
TSN Is Ready
Through the combined efforts of the various TSN vendors, the key elements for building a TSN ecosystem are gradually being put in place, with substantial progress already made.
In recent years, many demonstrations of practical TSN applications have been on display in automation exhibitions around the world. These exhibitions are evidence of the standard organizations and manufacturers' determination to support the development of TSN technology. Moxa, as an active contributor since the early stages of defining the TSN standard, has been working together with industry leaders to advance the development of the TSN ecosystem.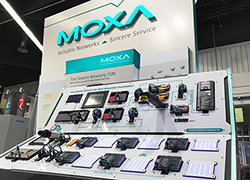 In November 2019, Moxa together with Mitsubishi Electric, B&R, and Acontis presented the "TSN:unified network infrastructure" at the Smart Production Solutions (SPS) in Nuremberg, Germany. Using a TSN unified network architecture, two major industrial Ethernet protocols, CC-Link IE TSN and OPC UA, ran over TSN. This demo integrated motion control, image streaming, data collection, and other applications to demonstrate the practical implementation of TSN with multiple products. (For more info see TSN—The Future Is Now)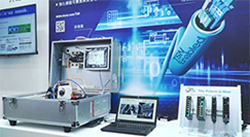 At the Taipei International Industrial Automation Exhibition in August 2020, Moxa was invited by CLPA to demonstrate the TSN unified network architecture, showing Moxa's CC-Link IE TSN-certified switches in action for the first time.
In the past, the industry considered the TSN standards and technology still to be in the early stages of development. Industrial Ethernet protocol support, solution readiness, and interoperability are the three key factors that are holding back the implementation of TSN technology. Based on recent progress, we know that these obstacles are now gradually becoming a thing of the past.
TSN is no longer just an idea. The introduction of TSN-compatible industrial Ethernet protocols and complete TSN solutions designed by device manufacturers all build towards a true TSN ecosystem that is set to become the cornerstone of the future Industrial Internet of Things (IIoT) era.
For more information about TSN, download our white paper or visit our TSN website.