How to Deploy Smarter Wireless Networks for AMH Systems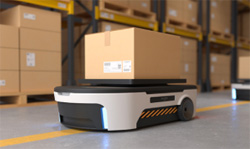 Automated materials handling (AMH) systems are designed to improve manufacturing and warehousing productivity. According to a recent study, the AMH system market has grown continuously since 2010 and is expected to reach over US$70 billion in 2026. The growing adoption of AMH systems in the manufacturing industry demonstrates that more business owners are realizing the benefits of intelligent systems, and they are embracing these systems in their factories. Commonly seen AMH systems include robots, conveyors, automated guided vehicles (AGV), and automated storage and retrieval systems (AS/RS). At production sites, you can see robots and conveyors used on production lines to improve operational efficiency. AGVs provide the highest mobility among AMH systems and can be seen in both production sites and warehouses to move goods from one workstation to another. AS/RSs are more likely to be found in warehouses; they use moving shuttle systems to store and retrieve goods from shelves.
Without a doubt, AMH systems can enhance mobility and efficiency at your production site or warehouse. However, it can be difficult to control and monitor all the constantly moving equipment within these systems. To maximize the capabilities of AMH systems, operators mainly use wireless communication to monitor system conditions so that they can make instant decisions from a remote site. To ensure smooth communication for AMH systems, some considerations need to be weighed when developing a reliable wireless network.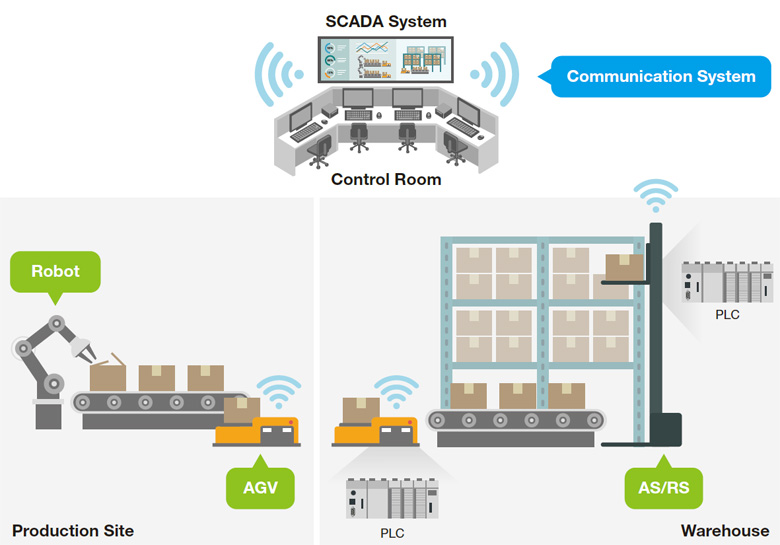 Overcoming Environmental Constraints
Various environmental constraints can be found in AMH system operating environments. AMH systems usually incorporate compact equipment to maximize mobility. Therefore, devices installed in AMH systems, such as motors, PLCs, and wireless devices, require compact design to fit into limited spaces. During daily operation, your AMH systems are running in environments with extreme electromagnetic interference (EMI) that can easily interrupt power inputs and wireless signals. Wireless solutions that feature both power and RF protection reduce the chances of unexpected system downtime due to EMI interruptions.
Enhance Wireless Communication Reliability
Compared to wired networks, wireless communications are relatively hard to maintain due to the invisible connections. When your AMH systems are working hard to enhance your productivity and efficiency, the last thing you need is for operations to stop due to unstable wireless communications. As wireless networks are invisible and you may feel uncertain about their status, you can consider some features to enhance wireless reliability. First, develop a thorough plan for your wireless network. Deploy your wireless APs wisely to increase the wireless coverage and avoid possible signal interference. Second, your wireless solutions need roaming capability. This is essential for high-mobility AMH systems, such as AGVs, which need to move seamlessly from one location to another across several wireless APs. When choosing your wireless solution, check if it has roaming features that can achieve millisecond-level handover times for seamless wireless communication among APs. Finally, wireless solutions that support industrial protocols can be a great help. Operators can send commands through wireless networks using the same protocols that PLCs use inside the AMH system, enhancing communication reliability for real-time control and monitoring onsite operations. Download our white paper to learn more about how to develop wireless networks for AGV and AS/RS systems.
A Smarter Way to Manage Your Wireless Devices and Networks
Efficient device and network management is essential, especially for those wireless solutions that require multiple and complicated settings. It seems simple to set up one or two wireless devices, but when you deploy dozens of wireless devices for AMH systems, it can be painful without an efficient tool. When choosing wireless solutions for AMH systems, check if the solution includes easy-to-use tools that simplify your wireless device settings with highly accurate configurations. In addition, visualize your wireless network and manage your wireless devices in a smarter fashion. Wireless solutions with features that allow you to view the current network topology and device status, record roaming history, and set up alerts can help your daily operation and maintenance tasks, minimize wireless network downtime, and increase troubleshooting efficiency. Here is an explainer video of how you can achieve optimized uptime for your wireless connection with a smart management tool.
As a leading expert in industrial networking, Moxa has helped customers around the world develop reliable wireless communications to control and monitor their AMH systems. Download our case studies and see how other companies developed their AMH systems with Moxa's reliable wireless solutions.