Embracing Smart Manufacturing With Futureproof Technologies: Two Industry Experts Weigh In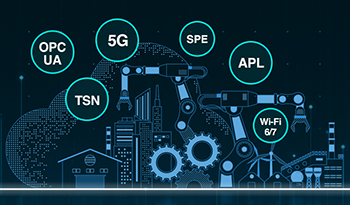 As flexibility, efficiency, resilience, and sustainability take center stage in the post-pandemic world, many industry leaders now believe the era of smart manufacturing will arrive sooner rather than later. Indeed, new technologies and standards, such as Open Platform Communications Unified Architecture Field Exchange (OPC UA FX), time-sensitive networking (TSN), Wi-Fi 6/7, 5G, and Single-pair Ethernet (SPE)/Ethernet-APL, are increasingly adopted to enable Industrial Internet of Things (IIoT) networks for smart manufacturing.
Two seasoned experts in the field of IIoT have decided to share their insights on the future of smart manufacturing and how we can get there. Stefan Schönegger, Vice President of Product Management Control Systems, Machine Vision and Networks at B&R Industrial Automation (a member of ABB Group), joins Jack Lin, Product Manager of Industrial Networking Infrastructure at Moxa, in answering five important questions many industries face as they plan and implement industrial networking solutions for intelligent manufacturing.
1. What makes the key technologies enabling smart manufacturing so important and how do they interact?
Stefan: Smart manufacturing is a technological concept that uses machines networked via the Internet to seamlessly monitor the entire production process. The devices in smart manufacturing continuously collect and analyze data from a variety of sources, including real-time data, to enable a new level of adaptability and rapid design changes through digital information technologies. In addition, data scientists can use the data to simulate manufacturing processes and figure out how to do certain things more efficiently. It is therefore crucial that all this data can be extracted and analyzed, which will allow knowledge and insights to be gained from it. Seamless and secure interoperability is a mandatory prerequisite for this, which is exactly what OPC UA does. 
In addition, OPC UA
supports a wide range of applications from the cloud to the field level, such as OPC UA FX (Field eXchange)
complements TSN, which enables different IT and OT protocols to coexist in a common network infrastructure by supporting IEC/IEEE 60802 profiles
Moreover, the OPC Foundation cooperates with the organizations behind
new 5G and Wi-Fi 6/7 technologies
the Advanced Physical Layer (APL) project group, which defines the requirements of the process industry
Thus, OPC UA is becoming universal for many applications in both factory automation and process industries.
Jack: Since OPC UA FX, TSN, 5G, Wi-Fi 6/7, and Single-pair Ethernet (SPE)/Ethernet-APL share the same packet switching and Ethernet foundations, they easily connect with each other and align with comprehensive efforts from all industrial partners involved with most standards bodies and communities, such as IEEE 802.1, TSN TG, 802.3, 802.11 TGbe, IETF, 5G-ACIA, and IEC/IEEE 60802 joint projects. In a nutshell, these technologies have a high level of effective interactions with each other in a variety of industrial applications.
2. Are the new technologies for smart manufacturing only reserved for greenfield applications? What about brownfield applications?

Stefan: It must be remembered that customers have invested in existing technologies and cannot change everything overnight. Therefore, there must be a harmonious transition from good to better. The extensions made to OPC UA technology, called OPC UA FX, support this transition by allowing different established communication protocols to coexist in a common network infrastructure. This supports the migration from traditional fieldbus and real-time Ethernet protocols to a unified communication solution, which is exactly the right approach to evolve existing industrial operations into smart factories in a practical way.
Jack: When looking to adopt these new technologies, we're not just looking at greenfield applications but also brownfield applications too. Let's take IEEE 802.1 TSN TG as an example. Those features are considered "TSN related" and are based on technologies that have been established for more than 40 years. We've been developing those features on top of a solid foundation, which means they are both backward and forward compatible.
3. How are technologies contributing to machine learning and artificial intelligence?
Stefan: Machine learning and artificial intelligence (AI) require high quality data inputs for highly likely predictions. My thoughts on this are twofold:
Thanks to advances in chip technology and new single-pair Ethernet connectivity, there will soon be even smaller intelligent sensors with Ethernet connections that can communicate over OPC UA. Real-time requirements for smart manufacturing can be achieved via copper with TSN or via new wireless signals with 5G/Wi-Fi 6/7. These next-generation sensors will also become new sources of data and insights.
These new data sources will also provide high-quality inputs for machine learning and artificial intelligence through the comprehensive data semantics of OPC UA. Complete information about values, their units and thresholds, together with an absolute timestamp, means that the prediction quality of algorithms will become qualitatively better and better. It is a dream of every data scientist come true.
Jack: Good data always needs to be abstracted from large amounts of information, but the space and speed for information to be shared is restricted due to physical limitations. That is where TSN and ultra-reliable wireless technology such as 5G come in. TSN provides 10 to 100 times more bandwidth over proven industrial Ethernet networks, whereas 5G provides 10 times the capacity of previous cellular technologies. With determinism and ultra-low bounded latency, these technologies are capable of deterministically transmitting more precise and higher quality information, such as high-resolution images or video streaming. Furthermore, with the Single-pair Ethernet (SPE) and Ethernet-APL technologies, data access has been seamlessly extended to devices on the very edge as well as sensors within applications, so a holistic view can then be obtained.
4. What will smart manufacturing look like in 10 years?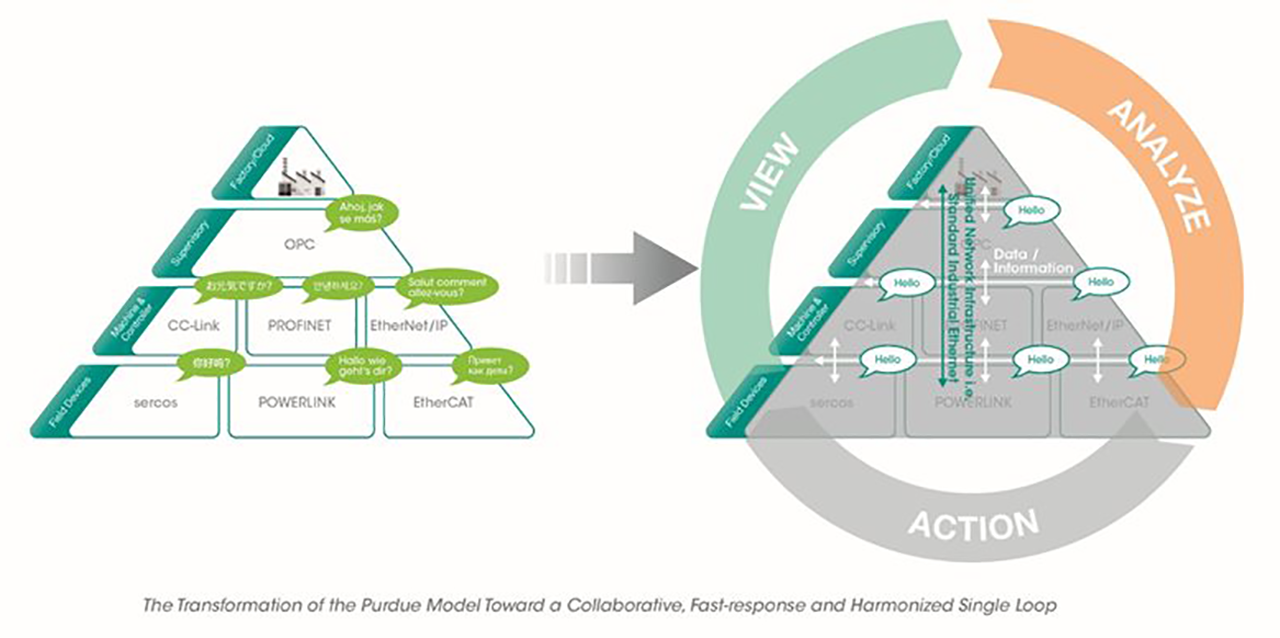 Stefan: People will still be indispensable in the factories of the future, but they will need to cooperate more with robots and intelligent machines to achieve safer, more efficient, and hopefully carbon-neutral manufacturing. As such, operational technology (OT) will adopt many proven productivity advances from information technology (IT). IT will find its way into machines and factories, albeit in a modified form.
To this end, OPC UA allows cross-platform, cross-industry, and cross-country industrial communication to take place. The devices of the future will be smart devices capable of performing updates remotely for cybersecurity with extended functions and features. It is important that devices can communicate with one another and with the cloud using the same set of standards. Therefore, OPC UA, TSN, 5G, Wi-Fi 6/7, and Single-pair Ethernet (SPE)/Ethernet-APL will all continue to play key roles into the future.
Jack: If Industry 3.0 is characterized by independent, pre-programmed loops and processes, then Industry 4.0 will see the development of a collaborative, fast-response and harmonized single loop. All resources, whether they are people, machines, data, or networks, tie in together harmoniously so that the right resource is mobilized and made available in the right place and at the right time to achieve production objectives.
5. What obstacles are keeping us from realizing the future of smart manufacturing?
Stefan: The silos separating information technology and operational technology need to be broken down so that IT and OT can continue to converge. Promoting a culture of openness and cooperation across disciplines can help IT and OT stakeholders exchange and transfer knowledge to achieve synergies and carbon neutrality.
Jack: We have discussed many positive aspects of these key technologies. However, there are still realities to be considered such as business initiatives and investment ROIs. Sometimes we see our customers struggling to reach a balance between satisfying current market demands and investing for the future. In fact, investing for the future is sometimes delayed due to current market demands. I suggest that organizations take steps to identify variables, mitigate risks, overcome unforeseen obstacles, and provide leadership for businesses to evolve.
Conclusion
As Stefan and Jack noted, the future of smart manufacturing is a journey built on a foundation of interoperable standards including OPC UA, TSN, 5G, W-Fi 6/7, and Single-pair Ethernet (SPE)/Ethernet-APL across many sectors. To learn more about the road to smart manufacturing and TSN, please visit our TSN microsite.