Rethinking Serial Connectivity to Extend the Life of Your Legacy Devices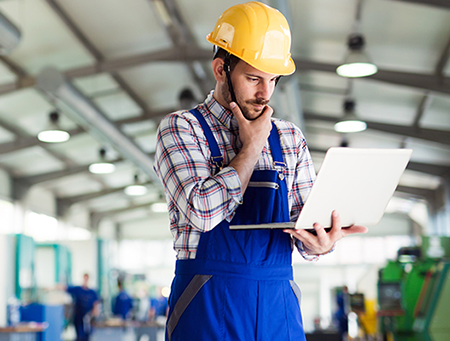 If your serial-based machines or devices have been running for decades and helped your business grow, you might worry how long you can still hold on to these assets. Computers are not equipped with serial ports anymore, and operating systems (OS) are getting updated more frequently and becoming more diversified. Also, more and more companies are managing assets online to get information immediately, thus minimizing response time and generating more data for business insights so that operators can run businesses more efficiently. All of this relate to the ability to get connected. Regarding your connectivity journey, two questions arise. How can your serial devices connect to modern systems if serial ports are no longer the standard interface on computers anymore? How can your devices be managed remotely if they cannot connect to Ethernet interfaces?
To get data more effectively, production machines and monitoring sensors have been modernized with Ethernet interfaces so that connectivity and data collection are easier. It also means large sums of money need to be invested in connectivity to reap the benefits. However, it does not have to cost you a lot of money. Keeping your serial devices alive has not only to be for sentimental reasons but also to protect your valuable investment by enhancing your devices' capabilities. A variety of serial connectivity solutions allows for simple and affordable upgrades to bridge your serial device into future networking. In this article, we highlight three major challenges you will face when enabling serial connectivity between your legacy devices and modern systems. We also provide expert tips to make your upgrade easy.
Challenge 1
Less Serial Interfaces in Today's Computer
Computers are commonly used in industrial applications to interact with a variety of devices. However, RS-232, RS-422, and RS-485 interfaces on newer computers are nowadays rarely seen, making it harder to connect serial devices at field sites to control centers. Luckily, the issue can be fixed via an expansion card on motherboard-level connections, such as PCI, PCIe, mini-PCIe, etc., to increase the number of serial ports on an industrial PC. Alternatively, as universal serial bus (USB) interfaces are standard on today's computers or laptop PCs, USB-to-serial converters are also an option to solve the headache of insufficient connectivity on host computers.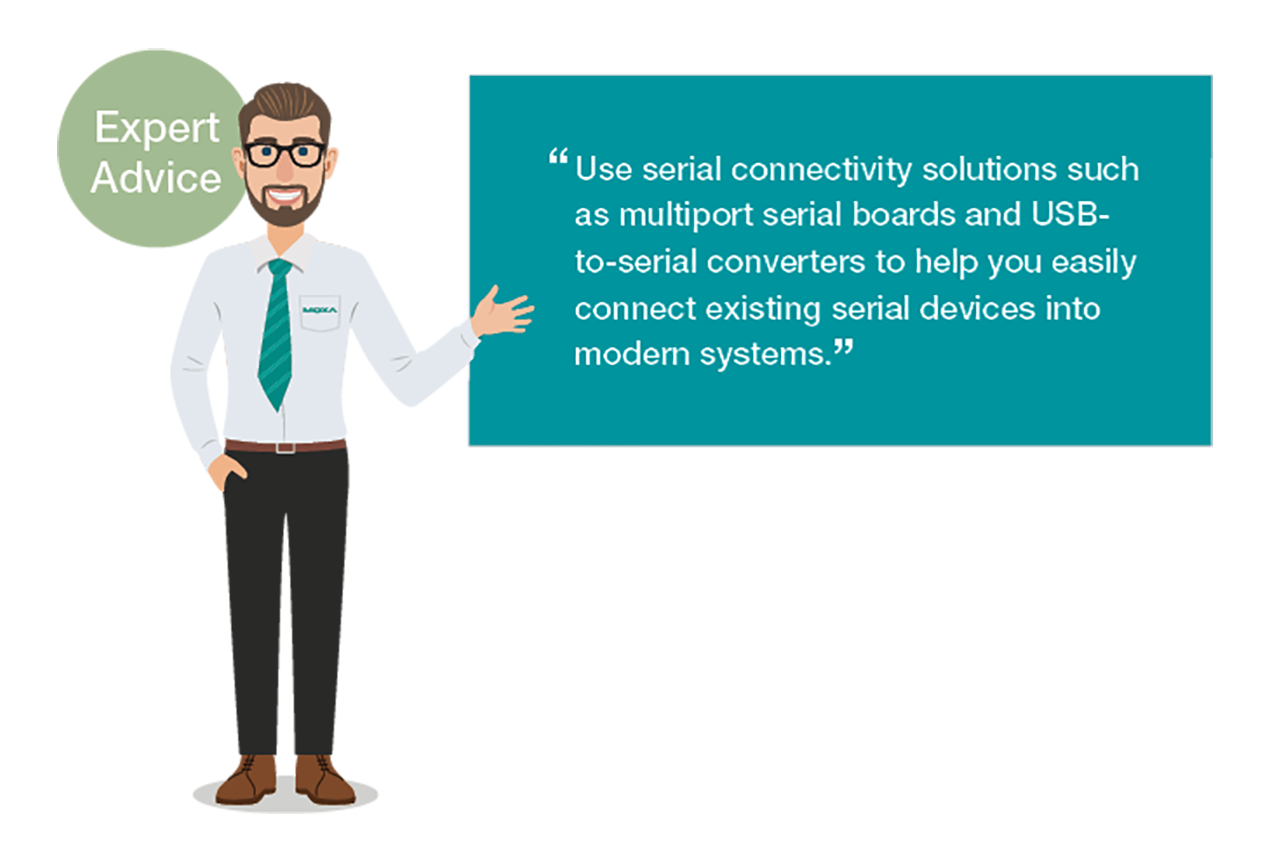 Challenge 2
Difficult to Achieve Remote Monitoring Through Serial Communications
When applications reach a certain scale, remote communication becomes more important from a management point of view, as serial-based communication is harder to achieve. Nowadays, Ethernet communication is very popular to realize remote monitoring applications. Hence, serial-to-Ethernet converters are a cost-effective option to enable Ethernet connectivity for your serial devices. However, converting serial communication data to an Ethernet format might not be so straightforward as the network structure and software architecture may face compatibility issues. You might need to redesign your original serial communication program to adopt this new communication interface and data interpretation, such as creating virtual COM ports to access your serial devices through TCP/IP-based networks. Also, converting serial communication protocols, such as Modbus RTU, to Ethernet communication protocols, such as Modbus TCP, requires extra effort. If you want to integrate your serial devices into Ethernet-based systems, choose a serial-to-Ethernet converter that helps minimize these efforts in dealing with communication settings to save you tremendous time. In addition, make sure your serial-to-Ethernet converter comes with the driver support that fits your preferred OS.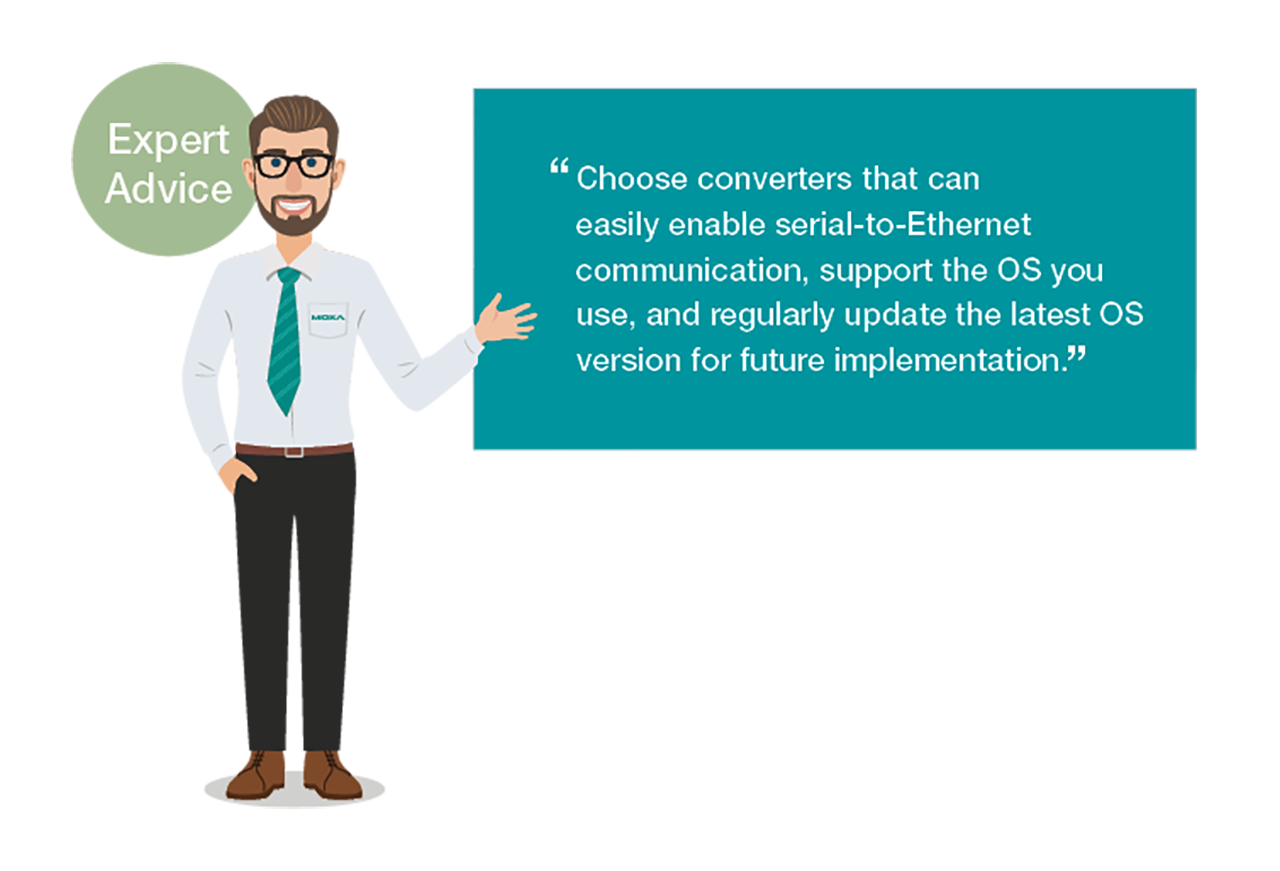 Challenge 3
Uncertain Availability of Your Serial Connectivity Components
Although you can extend the life of your valuable assets through a variety of solutions, as mentioned previously, it is the continuous existence of serial connectivity solutions that matters the most in the long run. The choice of a component supplier is essential as their ability to provide serial connectivity solutions in the long term can affect the longevity of your serial-based equipment. Also, as technology develops over time, so do problems. Therefore, your connectivity solutions would need to evolve as required. For example, the rise of cyberattacks has become a major concern in connected applications, as these threats affect the operation of your business. Thus, cybersecurity becomes especially a critical feature in devices that have network interfaces. A commitment to long-term investment in serial connectivity solutions that encompass availability and advancement provides you peace of mind that your business and application would stay in operation for a long time.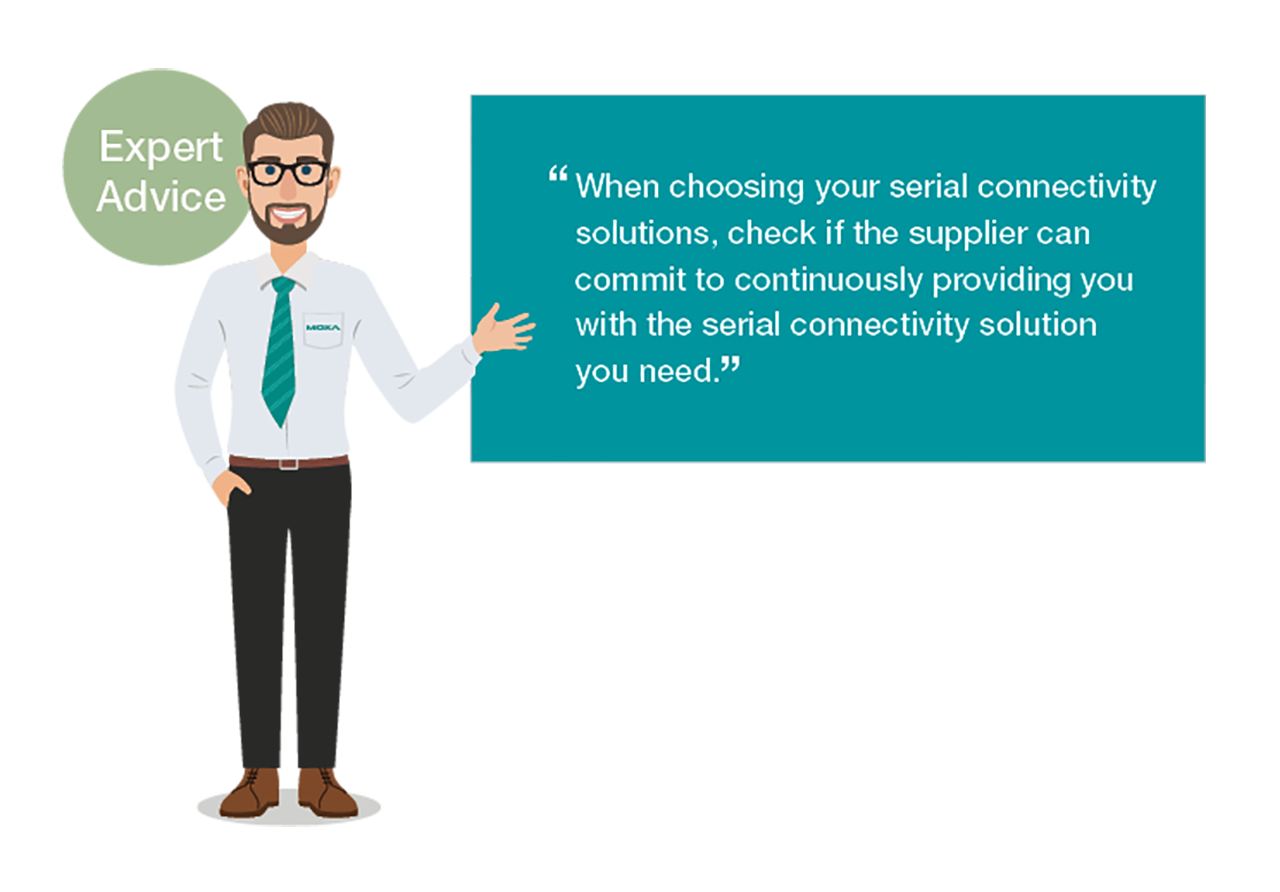 Your Trusted Partner in Serial Connectivity Solutions
To overcome these serial communication challenges, Moxa's serial connectivity solutions enable your serial device connectivity effortlessly. Our serial connectivity product portfolio includes multiport serial boards, USB-to-serial converters, serial device servers, and serial-to-Ethernet protocol gateways that fulfill your different demands in connecting your serial devices into modern systems. Our serial connectivity solutions support a variety of operating systems with their latest versions, including Windows, macOS, and Linux, making it easy to connect your serial devices into a wide range of operating systems.
Moxa has been providing serial connectivity solutions for over 35 years, and we are committed to providing serial connectivity solutions that can meet your future networking requirements for the next decades. Visit our microsite to learn more about our commitment and investment in serial connectivity solutions.