How Reliable Connectivity Enables Intelligent Electronic Toll Collections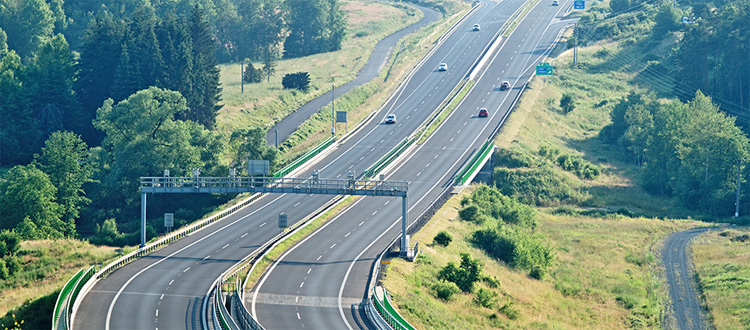 Electronic toll collection (ETC) systems play a crucial role in easing traffic congestion in many metropolitan regions. In fact, the global ETC market is expected to grow by 7.7%1 over the next five years. Strong government support is one of the drivers behind the projected growth in this market. The other significant driver is the increased use of advanced technologies in transportation infrastructure that allow ETC systems to be connected as part of a wider Intelligent Transportation System (ITS) to offer more value-added features needed for the next generation of smart highways.
Despite high initial deployment costs, ETC lanes reduce operating costs and revenue leakage compared to traditional booths staffed by human toll collectors. Moreover, ETC allows for vehicle tracking and the collection of valuable data on road usage, which could reveal patterns for traffic management. When more useful information becomes available, operators can monitor traffic loads and set flexible tolling to improve traffic efficiency.
To reap these benefits, real-time vehicle data need to be collected and fed to other applications for analysis. In general, ETC systems today consist of vehicle tracking, vehicle identification, and backend registration and billing.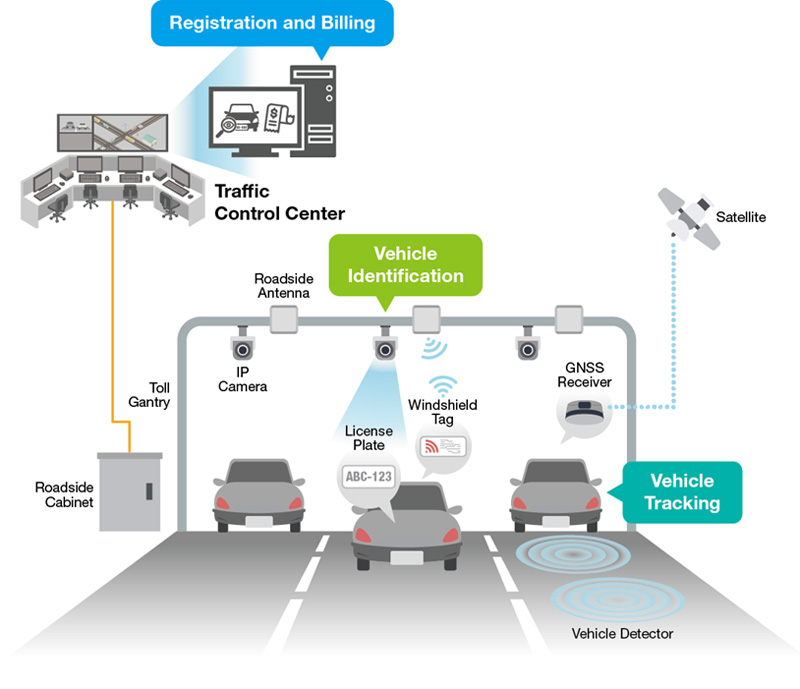 1. Vehicle tracking can be done through the global navigation satellite system (GNSS). Data is retrieved from the onboard GNSS receiver or at checkpoints along toll road sections through field-site sensors, such as a vehicle detector.
2. To identify vehicles, vehicle-to-infrastructure communication or license plate recognition (LPR) technologies are used. Vehicle-to-infrastructure communication can either use RFID where a UHF antenna/reader identifies the windshield tags or leverage GPS to connect with onboard devices (OBU). LPR, on the other hand, use cameras that rely on optical recognition to read plate numbers.
3. Integration with backend infrastructure is also essential. In particular, transportation authorities need to be able to instantly verify the licensing and registration of each vehicle in order to bill the proper driver. A reliable and secure networking solution ensures optimal billing performance and customer service.
To get each part of the ETC system connected and working smoothly, you need to enable reliable connectivity among all these subsystems and databases. Connectivity plays a central role in collecting critical and confidential data and transmitting the real-time information between the operation center and toll roads. Planners and engineers should consider the following when building a communication network for any ETC system.
Choose a Compact and Reliable Solution to Connect Multiple Sensors
The vehicle detectors, RFID readers, and cameras deployed in various ETC systems can be serial, I/O, or Ethernet-based. They need to be connected to an IP network in order to transmit data to a SCADA system. For the system to be operative, sensor data must be verified against vehicle records and plate numbers that are stored in databases. In this context, the size, mounting types, level of functional integration, and more importantly, reliability of communication devices to be installed in space-limited roadside cabinets, must be carefully considered. A durable system reduces operating costs throughout the life cycle as equipment is deployed mostly in harsh outdoor environments. 
Secure Critical Data During Transmissions
Cybersecurity frameworks such as the NIST or IEC 62443 standards are adopted to protect transportation facilities worldwide amid threats to public and data security. As ETC systems are part of public transportation infrastructure, networking devices of choice should meet cybersecurity standards. First of all, device authentication and whitelisting make intrusion attempts difficult to succeed. Using secure communication protocols or VPNs when transmitting sensitive data such as payments and driver information can also help prevent unauthorized access, data theft, and tampering with the system and records.
Last But not Least, Maximize Network Performance
ETC systems rely on reliable network performance. Any packet loss during transmission may affect data integrity and result in incorrect toll collection. The network should have sufficient transmission bandwidth and distance to avoid packet loss due to network congestion. A backup path or network redundancy mechanism should also be adopted to avoid network downtime should any of the network ports fail.
The Right Connectivity and Networking Products
As an industrial connectivity and networking solution provider, Moxa has helped numerous clients connect and build reliable networks for state-of-the-art ETC systems in intelligent transportation systems around the world. Download our case studies and see how other companies have enabled reliable communications for their smart ETC systems.
Looking for the right connectivity or networking products for your application? Download our eBook to find out what key criteria you should consider to choose the best solution for your needs.
1 Source: https://www.marketsandmarkets.com/Market-Reports/electronic-toll-collection-system-market-224492059.html