Optimize Energy Efficiency for Your Building Automation With Secure BACnet Gateways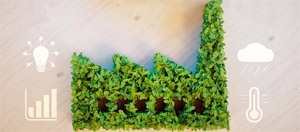 Today, awareness of environmental sustainability is prevalent among individuals and organizations. For building automation, making the best use of energy is very important.
A building management system (BMS) is a centralized system that control and monitor the operation of building facilities. These include heating, ventilation, air conditioning (HVAC) systems, and lighting control, aiming to provide a comfortable environment. Other operational aspects include access control and surveillance systems for personnel safety, and power to ensure a sufficient power supply for daily building operations.
To optimize energy usage, you need to monitor power consumption from a BMS. However, it takes additional meters and connectivity solutions to collect power usage data from HVAC systems and the power facility. In this article, we discuss the connectivity challenges and solutions that can help you enable reliable power monitoring from a BMS.
Communication Challenges
When you enable connectivity for your HVAC systems and power facilities, such as switchgears, you would notice differences in communication protocol between the power facilities and BMS. Most power facilities and some of the HVAC systems are designed for industrial applications that usually come with Modbus protocols. A BMS, on the other hand, usually uses BACnet protocols – a data communication protocol for building automation and control networks leveraged by the American Society of Heating, Refrigerating and Air-Conditioning Engineers (ASHRAE) standard. To enable communication between these different protocols, you need to translate these languages so that they can understand each other. Depending on the scope of your system and programming requirements, you can consider using a computing platform or a standalone BACnet gateway.
No matter which solution you choose, communications between Modbus and BACnet protocols can be complicated to establish and maintain without easy-to-use utilities. When you choose your BACnet devices, check if they offer functions and tools that make device configuration and protocol troubleshooting easy. It can save you significant time in the initial installation as well as with daily maintenance.
Cybersecurity Concerns
Collecting power data from your building facilities gives you more control of the energy usage to optimize your building's operational efficiency. However, it also increases the potential attack surface for intruders when you are connecting more devices. When you deploy BACnet devices, you must configure the devices securely to avoid potential threats. For instance, change the default passwords for your BACnet devices and disable unused ports and services to reduce available entries. Constantly monitor the security level of your BACnet devices and perform vulnerability scans to identify potential threats, helping you to take the necessary actions to minimize the risk of cyberattacks.
Moxa's Secure-Hardened BACnet Gateways
Our MGate 5217 Series Modbus-to-BACnet gateways are BACnet-certified gateways. Their interoperability had been tested at a recognized BACnet testing organization, and they are BTL-listed products, ensuring your communication can be established smoothly. In addition, our standalone BACnet gateways feature built-in configuration and troubleshooting tools that help engineers quickly enable communication and easily identify problems when communication errors occur.
To overcome the increasing security concerns at the edge, our BACnet gateways' design is based on IEC 62443 standards. These gateways not only provide you security embedded functions, but also offer clear instruction through security hardening guides to help users enable communication securely.
Moreover, BACnet gateways that are deployed close to power facilities and HVAC equipment have to deal with harsh conditions such as unstable temperature and high EM interference. Moxa's Modbus-to-BACnet gateways are designed for industrial applications and can endure severe conditions to enable stable communications.