Maximize Your CNC Manufacturing Uptime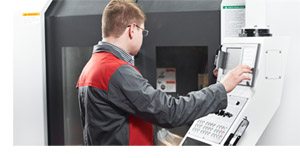 Computer numerical control (CNC) machines play an essential part in countless manufacturing applications. They build these machines for processing a variety of materials, such as metal and plastic, and shape them into the required forms. Advanced technologies have also enabled CNC machines to become more powerful by featuring more axes for greater precision and enhancing operational efficiency. As CNC machines continue to evolve, they require more complicated components, faster operating speed, and greater attention to the machines' operation status to avoid system downtime.
Every second a CNC machine in a factory is idling, offline, or shut down for maintenance translates into loss of profit. Thus, the efficiency of CNC machines matters a great deal to the bottom line of a CNC-automated factory. To improve productivity, factory managers need real-time information about the status of their CNC machines. Usually, one of three operational goals will shape your machine data collection (MDC) strategy: enabling distributed numerical control (DNC) communication of CNC machines to achieve remote manageability of changes to recipes; basic MDC to measure overall equipment efficiency (OEE); and advanced MDC to perform predictive maintenance.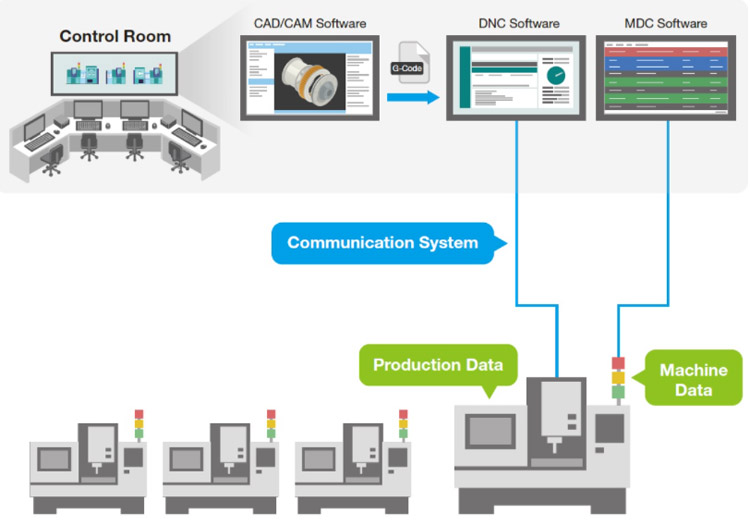 DNC Communication
Many factory operators still manage legacy serial CNC machines. To operate a modern production process, they need to generate the G-code from CAD/CAM software and manually upload it to the local controller (frontend PC) for manufacturing. This process is a very time-consuming and labor-intensive operation. DNC software is often used to increase efficiency, which makes the transmission of recipes (G-code) to multiple CNCs possible over a network so that productivity is increased, too.
Machine Data Collection
Machining equipment, for example, requires a significant capital expenditure and only generates revenue when it is producing parts. Machine monitoring helps track nonproductive machine time so you can improve the machine utilization rate for better productivity. Traditionally, machine data was obtained manually at the end of the day. Often, this data can be entered incorrectly; thus, no insights can be obtained. To improve the factory OEE, MDC software retrieves the necessary machine information from the machines in a more accurate and timely manner. Such requirements can also be done with DNC software if CNC machines come with serial or Ethernet network interfaces.
Whether you aim to enhance operational efficiency or improve the OEE of your machines, it's essential to enable smooth communication between your DNC/MDC software and CNC machines. Here are some connectivity suggestions you can consider.
Various Connectivity Requirements
Many of the unconnected CNC machines on plant floors are older legacy equipment that requires multiple communication interfaces to enable connectivity between CNC machines and DNC/MDC software. To update G-code on your serial CNC machines through DNC software installed in Ethernet-based systems, you need serial-to-Ethernet solutions deployed between the field sites and the control center. In addition, growing numbers of engineers are working to implement remote control of CNC machines using serial-to-wireless solutions, providing substantial savings on cabling maintenance and deployment costs. For machine status monitoring, you might need to collect information from legacy equipment, such as stack light towers or cycle start/stop buttons, which would require using digital I/O solutions.
Communication Performance Matters
Data loss during DNC-to-CNC communications is unacceptable. Today, many older serial CNC machines have only a very small memory cache managed by a UART chip that is too small to contain a single set of instructions, which is often served by a tiny FIFO buffer. For these machines, upload CAM instructions for a single and complex component in multiple stages. The limitations caused by small FIFO feeds and slow serial connections add a considerable amount of time to data transfers—time that the DNC can better use serving other stations. This is a significant problem for large factories, where DNCs are constantly uploading new G-code files to CNC stations. Every slow CNC becomes a potential bottleneck, where a DNC could temporarily stall while waiting for a CNC to complete the data transfer. The reliability of data transmission is of utmost importance on the shop floor. You need a connectivity solution that features a flow control mechanism for managing both sides of serial and Ethernet data transmissions, enabling serial-to-Ethernet communication with minimal transmission latency to upload G-code files within expected time frames.
Paying Attention to Cybersecurity
More attention is now being placed on cybersecurity in industrial applications than ever before. Although CNC applications generally use closed-network environments, more and more manufacturing networks are being connected to the Internet, which introduces new types of cybersecurity threats. As a result, a certain level of protection will be needed, such as password protection or account management, to limit authorized access to prevent unintentional or intentional intrusion of the network system. This type of protection can better ensure that operations will not be interrupted. For some specific types of manufacturing, such as aerospace components and medical components, production data is deemed to be sensitive or confidential. In these cases, edge devices used for data communication must be treated as a secure node and consequently need to be managed well. Measures such as setting up account management for different types of user-level access, or even data encryption features to protect sensitive data, are also important.
By connecting CNC machines online, factory operators can identify critical productivity issues and take the necessary steps to correct them with very little downtime, maintenance, or additional costs. Moxa has decades of proven expertise in providing reliable, easy-to-deploy connectivity solutions to system integrators and machine builders to develop their machine data collection applications. Download our case studies to learn more.
Do you need help selecting connectivity or networking products for your project? Download our E-book and learn about the key criteria for choosing the right products for your needs.