Leveraging Cellular IIoT Gateways in Water and Wastewater Monitoring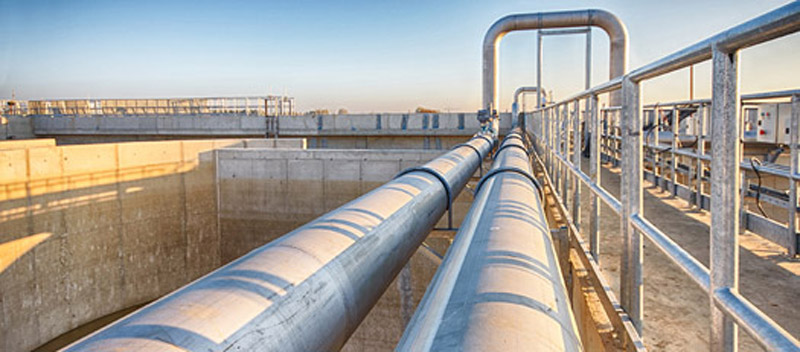 Water distribution and wastewater management may not be particularly glamorous, but these are some of the most essential services we rely on in daily life. Every time you turn on the faucet, jump in the shower, or flush the toilet, wastewater needs to be transported to a treatment facility before it can be reintroduced into the environment in order to avoid contamination. Out of sight, out of mind, we don't usually think about how municipal services are able to deliver fresh water to our taps until something goes wrong. This is done while keeping sewage and wastewater flowing to treatment plants and out of our homes and streets.
The physics of how water flows through pipes is just part of the picture. Water distribution and treatment services also need to constantly monitor the status of thousands of miles of pipelines to prevent and fix leaks, corrosion, and blockages. To detect and locate leaks and other problems, engineers are traditionally dispatched after an issue is reported. However, it can be difficult to trace and repair leaking water pipes in remote areas within a short period of time. In most cases, maintenance and repairs require two to three days, during which water or wastewater could be leaking unabated into the environment.
An Intelligent IIoT-based Remote Monitoring Solution
A municipal water management company decided to build an intelligent IIoT-based remote monitoring solution to prevent and fix water and wastewater leakages, pipeline corrosion, and sewage blockages in a timelier manner. Remote I/O devices were deployed at various locations throughout the pipeline system to collect readings from thousands of temperature, pressure, flow, and PH sensors. Each remote I/O device would then send data to an IIoT edge gateway via Ethernet communications. The IIoT gateway, which is installed in an outdoor cabinet, then transmits the data over cellular networks to the remote monitoring system on a private cloud server.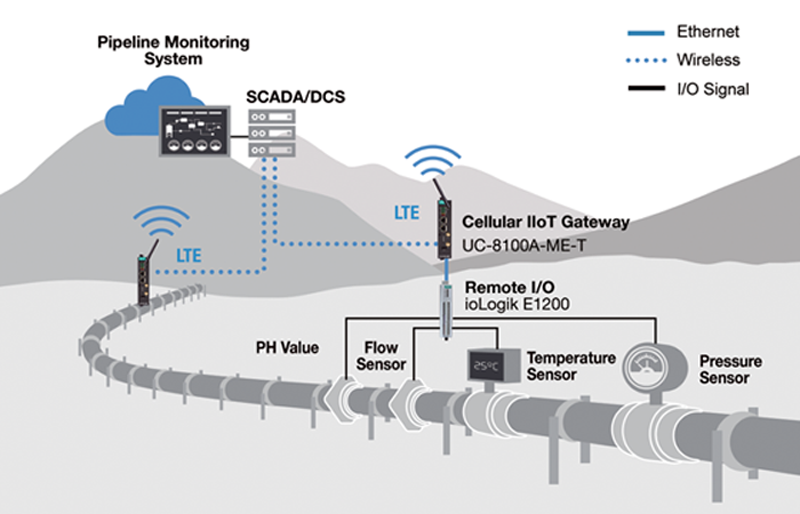 Designed for Harsh Environments and Small Cabinets
Since the IIoT edge gateways need to be placed in small outdoor control cabinets that are exposed to extreme environmental conditions and powered by small solar panels, the compact size, wide operating temperature range, and low power consumption of Moxa's UC-8100A-ME-T Arm Linux IIoT edge gateway makes it ideal for this project. In the solution Moxa provided, the ioLogik E1200 remote I/O device collects the serial I/O field sensor data, converts the signals into Modbus TCP, and then transmits the Modbus data to the UC-8100A-ME-T IIoT edge gateway. With a 1 GHz Arm-based processor and 1 GB of RAM, the edge gateway is able to sufficiently process data while consuming only 10 W of power. Another key advantage is that the gateway provides integrated cellular LTE connectivity, which eliminates the need for an additional cellular gateway and saves deployment costs and valuable cabinet space. What's more, Moxa also provides prebuilt APIs and a cellular management utility so that the system integrator doesn't need to develop data connectivity from scratch, ultimately reducing engineering effort.
By leveraging these IIoT solutions to reliably deliver real-time data from numerous sites in a highly distributed system of water pipelines to a centralized SCADA system, the water management company is able to remotely monitor pipeline status through a dashboard hosted on its private cloud. Clearly, these IIoT solutions save time in detecting and repairing leaking, corroding, or blocked pipes, and keeps the water flowing.