Expand Your Already Reliable Networks With Ease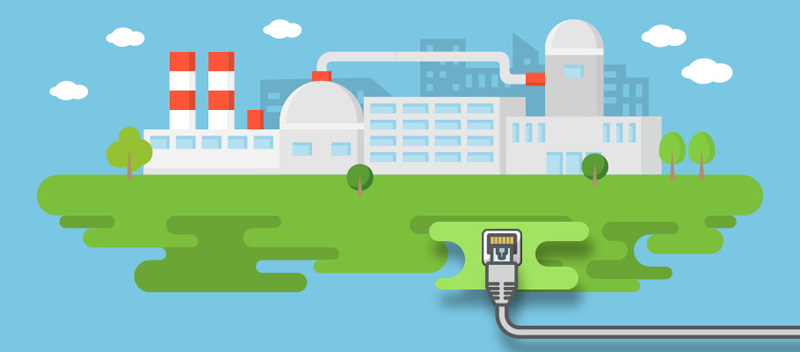 Expanding a network or increasing its complexity to meet growing connectivity demands is not always necessary. Although it is relatively easy to just add one more networking node to a network, the combined effort of configuring, maintaining, and troubleshooting a network may probably surpass the initial cost of a future-proof device. Along three applications, we will take a closer look at the challenges business owners face when expanding their edge networks. Furthermore, we will recommend strategies that may help you reduce the hassles of configuration and maintenance.
Before we get to our recommendations, let us first learn a bit more about each of the three applications.
Application 1: Adopting Automated Sortation for Production Efficiency
A food processing manufacturer invested in new production assets, including an automated sortation system that improved food sorting efficiency. Field staff were pleased to work with the automated sorting process, but they were concerned about unfamiliar network signals and maintenance.
To address these concerns, the system upgrade required:
No requirement of IT skills for rapid deployment, and a trouble-free operation and easy maintenance
Delivering I/O tagged data with high priority for real-time applications
Small network switches with high port density that fit in control cabinets that hold over 10 devices in a limited space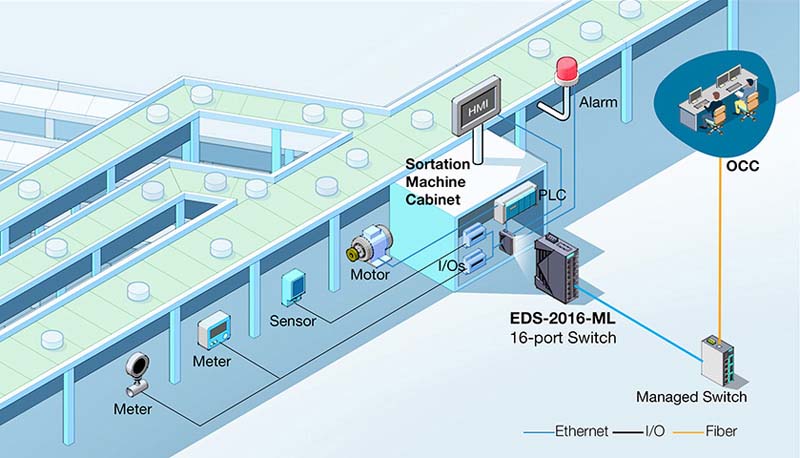 Application 2: Field Asset Monitoring Along a Pipeline Deployment
An oil and gas company expanded networks to keep up with their crude oil wells exploration. The field network was built to control and monitor field instruments between oil wells, EMS workstations, and the remote OCC control center. The control cabinets were built separately from network cabinets for field operations and required simple but highly reliable connections capable of sending alarm notifications.
The expanded network had the following requirements:
Rugged network devices to operate in hazardous locations
An instant warning function for on-site monitoring
Enhanced noise resistance to transfer EMS and I/O data to a local network console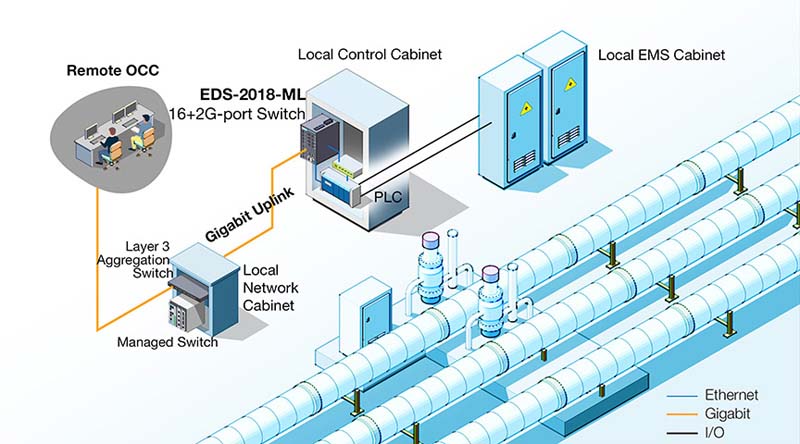 Application 3: Reliable Data and Image Collection From ETC Gantries
New toll gantries for electronic toll collection were deployed in an open-road toll system. The toll gantry required an Ethernet switch that could collect data from vehicle-detection and fare-deduction equipment, and then uplink to a roadside cabinet as a backhaul to the remote operations center.
The system requirements included:
Durable industrial-grade devices that work reliably in an open-road environment
Connections of over 100 meters to uplink video streams and sensor data to roadside cabinets
Easy installation and long-lasting reliability to reduce the time spent on the maintenance of the gantries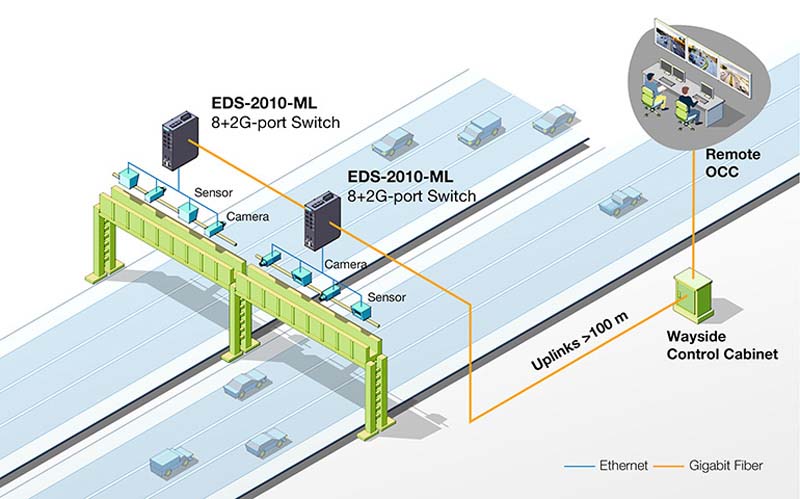 From these three applications, it is evident that it is very likely to expand connecting nodes in field sites when a business grows or new initiatives are introduced to its industrial operations. Control engineers may be familiar with industrial operations; however, unfamiliar network signals or troubleshooting can become a headache for them. Therefore, it is essential that edge networking devices – mostly industrial unmanaged Ethernet switches – are easy to deploy, adaptable, and reliable.
The Perfect Match
Industrial unmanaged Ethernet switches have emerged as easy-to-deploy networking devices to connect sensors, I/Os, and PLCs, as well as aggregate data to network backbones. On one hand, they feature plug-and-play, making them very popular among OT engineers. On the other hand, however, they sometimes take more time for troubleshooting because of their lack of visibility. The solution is an instant relay alarm to inform OT engineers of the network status without back-and-forth troubleshooting.
Furthermore, the Quality of Service (QoS) function, well-known by IT engineers, is also recommended to OT engineers to further prioritize the traffic in field sites.
Usually, OT engineers will rely on SCADA systems to configure and check whether their control data is well delivered to their destinations. Nowadays, you can just switch on the QoS function on an industrial unmanaged Ethernet switch. It is also recommended to select industrial unmanaged Ethernet switches that feature a compact-size, flexible port combination, wide operating temperatures, and industry certifications.
Ideal for Edge Network Expansion
Moxa has introduced the EDS-2010-ML/ 2016-ML/ 2018-ML Series, a lineup of industrial unmanaged switches with an extra-small footprint. These switches are ideal for edge network expansion in a variety of industrial applications that need proven reliability, easy deployment, and flexibility. Download the application notes to learn more about how the EDS-2000-ML Series unmanaged switches help you get ahead with rapid and reliable network deployment in the industries of factory automation, oil and gas, intelligent transportation, and marine.