Enabling Predictive Maintenance in Artificial Lift Monitoring Systems
| | |
| --- | --- |
| Application | Wellhead Monitoring |
| Industry | Oil & Gas |
| Region | USA |
Introduction
With the trend of oil field digitization gaining momentum, telematics can be tremendously useful in understanding equipment status so as to facilitate predictive maintenance and to avoid operation downtime. A leading oil and gas service company is building telematics solutions for its customers to run smooth operations and conduct predictive maintenance for artificial lifts in oilfields. The data generated by the equipment during the operations is the key to achieve this goal. As a result, this oil and gas service company needs a reliable and secure solution to ensure that the data needed is brought back to the control center for further analysis.
System Requirements
Computers with low power consumption and C1D2 certification
Reliable 4G LTE connectivity in high operating temperatures for constant data aggregation
Computers with Trusted Platform Module (TPM) to ensure data integrity
Open platform for customers to develop their applications
Moxa Solution
Moxa's UC-8100-ME-T communication-centric RISC computing platform allows oil companies to aggregate data from variable speed drives (VSDs) and PLCs for their pumping systems and to transfer the data back to the control center through LTE communication in the harshest environments. The UC-8100-ME-T series, serving as a reliable and secure IIoT gateway, is featured Trusted Platform Module (TPM), so each individual device is hardcoded by a cryptographic key to ensure the data is only accessible by authenticated parties. Moreover, the UC-8100-ME-T is also an open platform for customers to deploy second-time development, increasing the application flexibility.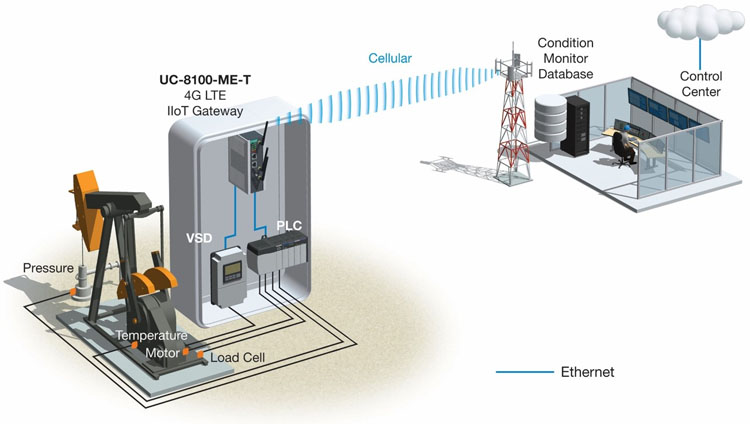 Why Moxa
Compact Arm-based UC-8100-ME-T IIoT gateway compliant with C1D2 & ATEX certification standards for harsh industrial environments
Deliver reliable 4G LTE connectivity in a wide operating temperature range of -40 to 70°C
Featuring TPM and long-term Linux support for security patches for Moxa Industrial Linux
Open platform for rapid development of customer applications for variable speed drives (VSDs) and PLC RMAC
---
Products Used:
Arm Cortex-A8 1 GHz IIoT gateway with 1 mini PCIe expansion slot for a wireless module