An Integrated Navigation System (INS)
| | |
| --- | --- |
| Application | ECDIS, Conning and Radar Systems |
| Industry | Marine  |
| Region | Sweden |
Introduction
For the marine industry, ensuring the safe operation of a vessel is an ongoing process. This is also the main reason why the customer has taken steps to consolidate information from previously independent systems (for example, the radar, ECDIS, navigation, and conning systems) into an Integrated Navigation System (INS).
System Requirements
High-performance computer for marine device connectivity and high-volume data processing in conning, ECDIS, and radar systems
Meet the IEC 61174:2015 standard for ECDIS applications
Separate cables and network components on redundant networks. Independent networks and protection from network overload
Robust product design that provides reliable operation in harsh marine environments
Moxa Solution
Moxa offers proven marine solutions for your integration needs. Moxa's full product range includes computers, displays, and network switches that are compliant with industrial standards to satisfy the demands of marine applications.
Ideal for INS applications, the high-performance MC-7270-MP-T marine computer comes with eight NMEA ports for marine device connectivity and features an Intel® Core™ i7 3555LE processor for high-volume data processing. In addition, its fanless design eliminates risk of fan failure, ensuring system reliability. For bridges with limited space, the compact design of the MC-7270-DC-CP-T marine computer is a perfect fit.
The widescreen MD-224 marine display with a 16:9 aspect ratio is compliant with the IEC 61174:2015 standard. The brightness and color of the MD-224 is calibrated to meet the highly specialized requirements of ECDIS applications. To maximize high availability for industrial networks, Moxa's EDS-G512E switch features our proprietary Turbo Ring and Turbo Chain Ethernet network redundancy technologies with self-healing capabilities and a fast fault recovery times of less than 50 ms at 1G connection speeds.
Why Moxa
High-performance MC-7270-MP-T marine computer with eight NMEA ports for marine device connectivity and features an Intel® Core™ i7 3555LE processor for high-volume data processing
ECDIS-compliant MD-224 marine display to reproduce accurate chart display
EDS-G512E switches that offer Turbo Ring and Turbo Chain Ethernet network redundancy technologies to achieve high availability
DNV GL certified computing, display, and networking solutions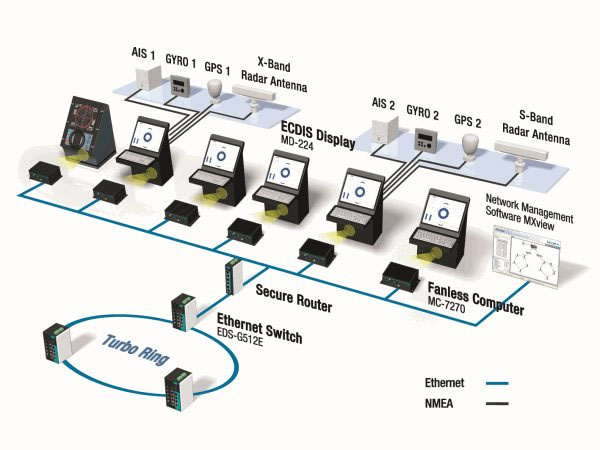 ---
Products Used:
12G-port (with 8 PoE+ ports option) full Gigabit managed Ethernet switches
x86 industrial computer with 3rd generation Intel® Core™processor, fanless, wide temperature
x86 industrial computer with 3rd Generation Intel® Core™processor, fanless, wide temperature
24-inch display, 16:9 aspect ratio,full HD 1920 x 1080 resolution