Enabling Flexible Monitoring Systems for CNC Machines
| | |
| --- | --- |
| Application | CNC Machine Monitoring |
| Industry | Manufacturing  |
| Region | Europe |
Introduction
CNC machines enhance productivity efficiency and accuracy in the manufacturing industry. A CNC system integrator in Europe develops connectivity between CNC machines and manufacturing execution systems (MES) to allow factory operators to control and monitor CNC machines at the control center. By enabling connectivity, engineers can receive CNC machine status and operational conditions to optimize system operations.
System Requirements
Collects both I/O and serial data from CNC machines
A wireless solution that overcomes the difficulties of wiring in the factory due to its manufacturing floor layout
A variety of I/O interfaces for different types of CNC machines
Moxa Solution
The production site houses numerous CNC machines and other equipment. The layout of the manufacturing floor made it hard to wire the machines and other necessary equipment. Each CNC machine consists of devices and sensors that use different communication interfaces. Moxa's solutions included ioLogik E1200 remote I/Os, which were deployed to collect a variety of DI and AI data, and NPort W2150A wireless device servers, which were deployed to collect serial data directly and I/O data from the ioLogik. The data is then transmitted through wireless networks. With our connectivity solutions, operators can easily monitor CNC machine status through MES located at a remote control center.
Why Moxa
One-stop-shop solution from I/O and serial connectivity to wireless communication
Supports a variety of I/O interfaces to fulfill various demands from CNC machines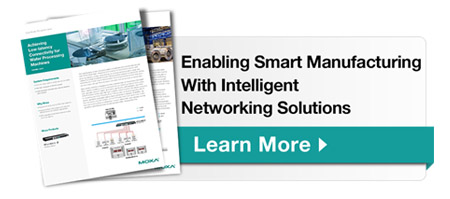 ---
Products Used:
Ethernet remote I/O with 2-port Ethernet switch
1 and 2-port serial-to-WiFi (802.11a/b/g/n) device servers with wireless client