Building Reliable Connectivity for Road Condition Monitoring
| | |
| --- | --- |
| Application | Road Condition Monitoring |
| Industry | Intelligent Transportation  |
| Region |  Lithuania |
Introduction
The Lithuanian road administration wanted to provide drivers with real-time road and weather condition updates on their website to improve the travel experience. To achieve this, a system integrator helped develop road condition monitoring systems across 500 stations in Lithuania. Each station had sensors and IP cameras installed at roadside cabinets.
System Requirements
Connect various sensors inside space-constrained roadside cabinets
Simple control logic to trigger alarms when needed
Receive real-time information through cellular networks
Moxa Solution
Our OnCell 5104-HSPA cellular routers, ioLogik E2242-T remote I/Os, and NPort 5150A-T serial device servers were used to connect these field devices and transmit both sensor and image data back to traffic control center via cellular networks. Our remote I/O features a smart function called Click & Go that allows operators to set up simple control logic rules during system operation without additional programming.
For smooth data transmissions, our cellular routers support 4 Ethernet ports to get serial, I/O, and video data online and built-in dual-SIM redundancy so that operators can create a backup cellular link in case one of the telecom services becomes unavailable.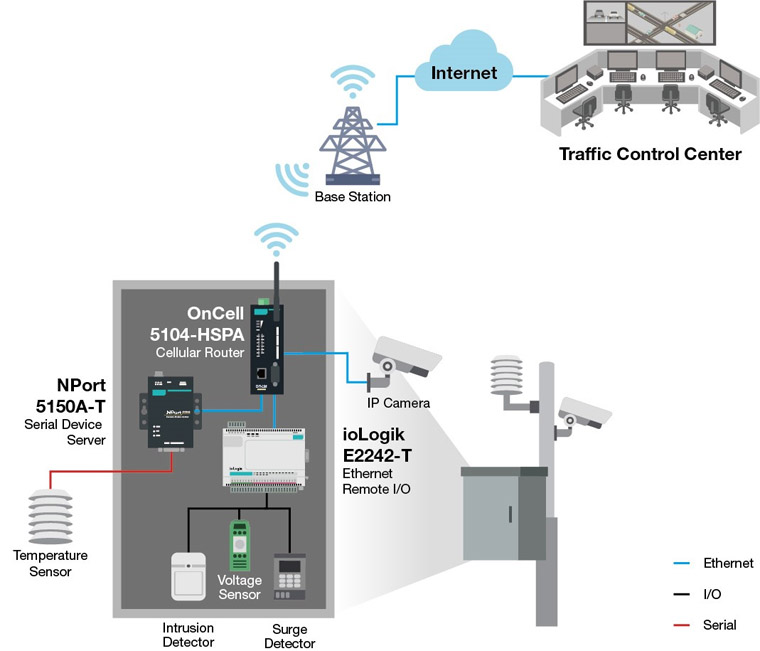 Why Moxa
One-stop shop for serial device servers, remote I/Os, and cellular routers
Supports IF-THEN-ELSE control logic rules with our Click & Go function
Dual-SIM design for cellular link redundancy by providing a backup connection when one link goes down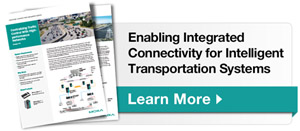 ---
Products Used:
1-port RS-232/422/485 serial device servers with serial surge protection
Industrial five-band GSM/GPRS/EDGE/UMTS/HSPA cellular routers
Smart Ethernet remote I/O with Click&Go Logic