Boundaryless encrypted and secure remote diagnosis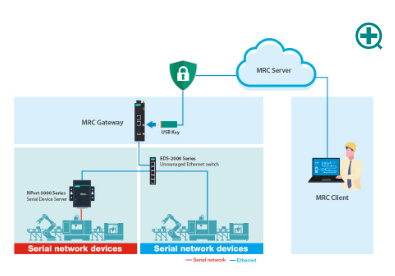 Remote system maintenance at your fingertips!
•  No need to change production machines
•  No need to configure router VPN settings
•  Data encryption
This USB device can be used as an encryption key to enable MRC gateways to establish secure transmission channels.
For quick and easy remote maintenance and troubleshooting, equipment suppliers can provide the USB key to administrators when new equipment is shipped. Administrators can then insert the USB key into the MRC gateway in order to automatically create a secure, encrypted channel. Upon completion of the service, the channel is closed by simply removing the USB key. This provides a safe, convenient, and reliable method for remote access.

Moxa's MRC Gateway is a 2-port Ethernet device that can easily connect to multiple devices with various network interfaces via an EDS-2000 series switch. The MRC gateway can also connect to different serial ports (RS-232/422/485) via NPort 5000 series products.

---
Three tips to accelerate your project success

Plug and Play:  network connections made easy
Router knowledge and configuration are not required skills to deploy this solution. There's no need to modify existing firewall settings to create a secure and encrypted channel, allowing engineers at remote sites to easily solve operation issues anywhere, anytime.

Secure and reliable data transmission
End-to-end encryption helps prevent critical data loss during transmission. The transmitted data and account password will only be stored on the cloud, not on the MRC server. This gives administrators full control over how long a connection stays open, providing maximum security and reliability.

Diverse connection options made easy
This solution supports various connection modes, including from one user to multiple devices, from multiple users to multiple devices, and from multiple devices to multiple devices. This addresses a wide range of user scenarios and makes cloud servers more flexible and easier to manage.
---
Secured remote equipment maintenance cannot be any easier

Moxa Remote Connect Suite
Remote connection management
platform
•  Easy deployment without complex firewall settings
   and IP reconfigurations
•  Enhanced security with end-to-end encryption
   and advanced access
•  Flexible connectivity with connection flexibility
   and scalability

EDS-2000 Series
Unmanaged Ethernet switches
•  Small and slim form factors with options for
    5 to 18 ports
•  Easy installation design for DINrail mounting
•  QoS and BSP by DIP switch

NPort 5000 Series
Serial device servers
•  Serial-to-Ethernet solution 
•  Fast 3-step web-based configuration
•  Surge protection for serial, Ethernet, and power