The Importance of Industrial Network Management
The emergence of the Industrial Internet of Things (IIoT) has seen industrial Ethernet become widely adopted in industrial environments. According to a recent market survey, for new deployments in industrial environments, industrial Ethernet is already outnumbering fieldbus in terms of the number of nodes deployed. Over the past few years, industrial Ethernet has emerged as one of the most important elements for industrial applications.
An Emerging Trend
As industrial Ethernet continues to be deployed throughout multiple industries, more importance is being placed on how to manage networks effectively throughout the entire network lifecycle. Effective network management software helps system integrators commission and set up new networks. It also significantly reduces the amount of maintenance that asset owners need to perform when the network is operating. Previously, network management software was expected to support network topology visualization, network notifications, as well as manage firmware updates and network configurations. However, industrial networks are entering a new phase, which is resulting in new applications beginning to emerge with their own set of requirements. After reading this article, you will have gained a thorough understanding of the key requirements that have to be considered when selecting a network management software to make sure that it meets your needs and equips you with the knowledge to manage your industrial networks more efficiently.
Real-time Monitoring for Large-scale Networks at Multiple Sites
As more and more devices are becoming interconnected, it is causing industrial networks to expand rapidly. Nowadays, industrial networks can have anything from a couple of hundred devices to well in excess of 10,000 devices interconnected. Therefore, before selecting a network management software, operators must not only consider the current size of the network, but also estimate how much it is expected to expand through its lifecycle to ensure that the network management software is able to support and manage network devices now and into the future. As industrial Ethernet is becoming used more frequently across different industrial applications, more operators are starting to use network management software to manage these applications.
In addition to the above, another type of network management is becoming more popular: remote network management. While almost all IT engineers are familiar with network management, it is often a new concept for OT engineers, who are not as familiar with network management technology as IT engineers. As OT engineers need to spend time and effort to develop this expertise, they will often seek out service providers to help them monitor their networks, manage network configurations, and maintain networks on their behalf. On industrial networks, network data is often transmitted from the network to the remote operation center by a VPN. The operation center monitors the network constantly, and can inform engineers of any issues that arise, allowing them to go to the field site and rectify any issues that have occurred. Due to the significant benefits that remote monitoring has to offer, it is rapidly becoming a mandatory requirement for many operators, particularly when multiple networks need to be monitored simultaneously at different locations.
Manage the Network Status on a Single Screen
It is almost always the case in industrial environments that the network management software will have to monitor more than one type of interface. Most control engineers want to monitor their network status using a system that they are familiar with such as SCADA, so that they do not have to learn how to operate a new interface. Thus, it becomes essential for network management software to provide interfaces such as OPC DA to help users integrate network information into OT applications such as SCADA systems. Since industrial Ethernet has become a vital component of industrial systems, more information is being required from the upper management platform. In order to achieve this, the northbound interface has to be opened up for users, so they can perform secondary development.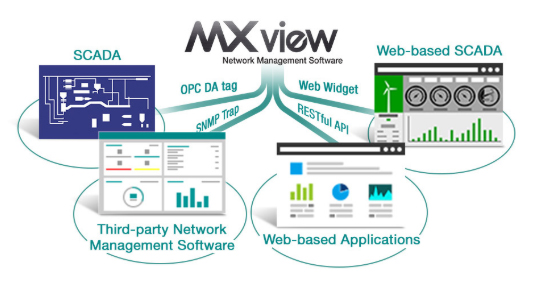 Managing the Network Status on a Single Screen


Moxa's Solution
In order to ensure that our network management software is suitable for the developments that are happening within the IIoT, the latest version of Moxa's MXview network management software includes two major new enhancements. First, MXview can now manage 10 industrial networks at different sites simultaneously, with a maximum of 20,000 nodes. Second, a web widget and RESTful API were added to the northbound interface. The benefit of the web widget is that network topologies and network events can be integrated into other industrial applications through a URL. Whereas the benefit of RESTful API is that it allows users to integrate network information into their systems. Download the trial version of MXview network management software or visit our product page for more information.