Minimize the Security Risks of Your Connected Systems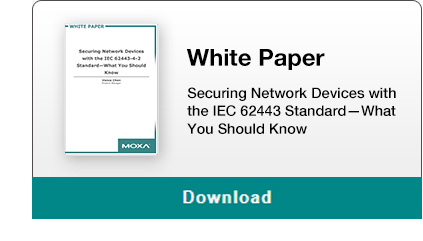 The increasing demands on data accessibility from field sites raises security concerns for your field devices, systems, and even data. To ensure data integrity and avoid unwanted access that could jeopardize your applications, enhanced connectivity security is imperative. Moxa offers a variety of connectivity and networking solutions to fulfill your different application requirements. If you need to collect serial or Ethernet data, develop security tunnels, or segment networks for your control systems, we have a suitable solution to ensure you can increase security on all aspects of your connectivity solution.
---

Your Needs, Our Solutions

Your Connectivity Security Needs

Moxa's Security-hardened Solutions




Your Needs

A solution that helps avoid entire network failure when a single product falls victim to a cyberattack or human error, such as incorrect commands.




Our Solutions

Deploy EDR-810 Series secure routers and firewalls to segment networks and avoid disruption to the entire network in the event of a security breach.




Your Needs

A solution that protects your data and networks from unwanted access during data transmission.




Our Solutions

Moxa's E Series managed switches are designed to protect your network from unauthorized access.




Your Needs

A solution that can securely send serial data across Ethernet networks.




Our Solutions

Moxa's NPort 6000 Series terminal servers are the ideal choice to protect your serial data on networks.
---

Choose the Secure Product That Works for You