Reliable Networks for Container Crane OCR Systems

In commercial ports, a large number of containers are transported to and from container ships every day. The faster the port operator loads and unloads the cargo containers, the more vessels can be accommodated by the harbor. The more ships and cargo the harbor handles, the higher the revenue for the port operator. One of the most important systems used to achieve automated port handling is the crane optical character recognition (OCR) system. This system is installed on the port gantry cranes, effectively replacing human eyes with digital "eyes" that can instantly verify serial numbers on rapidly moving cargo containers and confirm the integrity of each container handled. In addition to preventing accidents while transporting cargo, OCR systems keep personnel safe from hazardous work sites while increasing the efficiency of the cargo handling process. However, in order to realize these benefits, system integrators of port automation systems need to fulfill challenging requirements for building a reliable crane OCR system.


Three Requirements for Crane OCR Systems
Crane OCR systems for commercial ports need to satisfy the following three criteria:

1. Industrial-grade reliability
All OCR systems for automated container cranes operate outdoors and need to withstand a wide range of extreme weather conditions. Even warm water ports in mild climates will expose any device used in the OCR system to the damaging effects of high moisture levels and corrosive salinity from sea water. Consequently, all network equipment must be sufficiently rugged with industrial-grade design and high MTBF.
2. More than a fresh pair of eyes
The main objective of an OCR system is to help operators see and track what can easily be missed by human eyes. As a result, applications often deploy PTZ cameras to provide remote monitoring personnel with views from alternate angles, as well as the ability to zoom in and out for different perspectives. However, most PTZ cameras require 60 W of power input when deployed in outdoor industrial applications. In environments where port cabling is difficult, system integrators usually use high-power PoE switches to power the cameras, as standard PoE switches generally only have power outputs of around 30 W.
3. Analysis and administration from afar
Although remote monitoring keeps people safe from dangerous work environments, the images still need to be transmitted back to the port terminal's remote control center for further processing and analysis in real time. To avoid any delays to operations, system administrators also need a convenient way to administer, monitor, and maintain the network and devices remotely.


A Real Crane OCR System Case
A global cargo port operator in the United States requested a highly reliable crane OCR system for their port terminal automation application. Moxa was able to provide a complete portfolio of rugged solutions to satisfy all camera requirements and help the port operator achieve reliable network data transmissions. By mounting PTZ cameras on the front and rear of each crane, the port operator can capture images of each container's serial number, and also assess the condition of the container doors in real time. Moxa's solutions include the EDS-P506E-4PoE managed switch, which is equipped with 4 PoE+ ports with high power output of up to 60 W per port for PTZ cameras. For cameras that do not require as much power, Moxa also offers the EDS-P510A-8PoE, a cost-efficient 8-port IEEE 802.3at compliant PoE switch.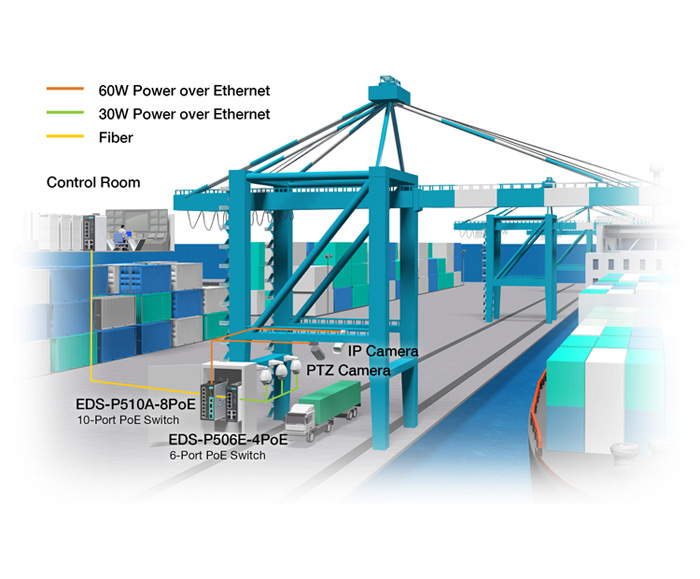 All the images are also immediately transmitted to the port operator's remote control center for further data analysis via the Moxa PoE switches. To ensure reliable data transmission, both the EDS-P506E-4PoE and EDS-P510A-8PoE switches provide Moxa Turbo Ring redundancy for fast network recovery in under 20 milliseconds. Furthermore, system administrators can also take advantage of Moxa MXstudio network management software to remotely visualize and manage the network of crane OCR systems. Besides forming part of the network itself, both of these Moxa PoE switches include a built-in "Smart PoE" feature to support remote-controlled cameras and powered device (PD) management, including PD status monitoring, remote PoE port power cycling, and PoE port power cycle scheduling.
In short, the solutions enabled the cargo port operator to realize the following benefits:
Increase productivity and efficiency for the crane operation
Ensure network reliability and uptime with network redundancy technologies
Visualize the remote crane OCR system status anytime, anywhere
Reduce future maintenance effort