Building Reliable Wireless for AMH Systems in Cargo Ports

Cargo port operators around the world are facing multiple challenges in keeping up with the increase in cargo volumes. A key challenge is moving cargo safely and quickly through the port to make way for new cargo. Port operators are increasingly relying on automated material handling (AMH) systems for efficient handling of containers and pallets. Forklifts and rubber-tired gantry cranes are the two most common types of AMH equipment used in cargo ports. In this article, we highlight the importance of wireless mobility for AMH systems deployed at cargo ports.


Increasing Operational Efficiency
Operators in the port control center need real-time status of cargo in order to monitor and manage both AMH vehicles and the cargo that they handle. Wireless mobility of AMH vehicles is paramount to achieving operational efficiency and ensuring the safety of workers at the port. An overall increase in the volume of cargo means that operators have to ensure fast movement of goods through the ports for timely, accurate delivery. The pressure on port operators to optimize their resources is more pronounced than ever before. As they leave no stone unturned in their quest to improve operational efficiency, cargo port operators are looking for reliable wireless solutions that can ensure near-zero loss of communication even as their AMH vehicles are on the move 24/7. In addition, they are looking for:
Compact devices that make it easy to integrate Wi-Fi capabilities into forklifts and cranes
Cost-effective wireless solutions
Industrial-grade design for operational efficiency in harsh environments
Capable of integrating 3rd party APs into the network and providing reliable connectivity
Easy network expansion in the future


Wireless Technology to the Rescue
A cargo port in South America has improved the operational efficiency of its AMH systems by deploying reliable wireless networks using Moxa's AWK-3131A clients. The port facility spans hundreds of hectares consisting of waterways, docks, and storage areas. Several AMH systems, such as gigantic forklifts and cranes, operate in the storage area to retrieve and store containers. The key to efficient cargo management is ensuring that these AMH systems find and pick up cargo from the correct location, then transport it to the loading docks without delay. In order to do this, the barcode and GPS information of the cargo containers need to be transmitted between the AMH systems and the control center in real time. The network devices deployed on the forklifts and cranes in the AMH systems should be able to maintain a stable connection with the wireless network even when subjected to constant movement and vibration. A total of 150 of Moxa's AWK-3131A wireless clients were installed inside the forklifts and cranes operating in the port facility to ensure uninterrupted connectivity for the port's AMH equipment. Operators in the control center can now receive the real-time statuses of both the AMH systems and the cargo that the operators handle. This real-time status information helps the cargo port monitor and control its AMH equipment better, thereby increasing operational efficiency.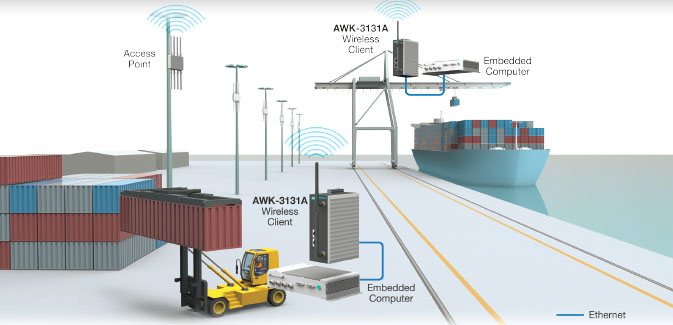 Moxa's AWK-3131A wireless clients provide excellent functionality at an affordable price, making it an ideal solution for cargo ports.


Moxa's Portfolio of Wireless Products for AMH Systems
Moxa's experience in providing wireless solutions for AMH systems is helping our customers achieve project success with the following benefits:
Easy-to-install Wi-Fi device with a compact size that fits inside shuttles
Ethernet and serial interfaces to connect end devices
DIN-rail mounting and wall-mounting options provide flexibility during installation
Millisecond-level Turbo Roaming technology for seamless operation of mobile equipment
Dual isolation design for power and antenna provides uninterrupted wireless connectivity
Vibration-proof design for reliable device connectivity, even when subjected to constant movement and vibration
Operational stability even at temperatures as low as -40°C